A story about how seemingly impossible dreams may lead to profound changes. 
Have you ever heard of the village Parkhomivka located 100 km of Kharkiv? Do you know that the local museum hosts works of the world renowned artists such as Picasso, Malevich and Kandinsky?
If so, the chances are that you have heard about the village somewhere in 2021 or thereabouts. The fact is that the Ukrainian political expert named Mykola Davydyuk and his team have been promoting the museum since April 2021. In this effort of theirs they have not been supported by anyone. They have been doing it upon their own initiative.
Why would Mykola be willing to deal with such a task? And why does the promotion of Parkhomivka not only concern art, but is also about the development of the entire region? Keep reading to learn more.
On romantics
Let's start with the museum. How would you define its value? This is a story about how a small Ukrainian village, which is teetering on the brink of extinction, manages to host world class paintings. I am talking about works of Kandinsky, Malevich, Dürer, Shishkin, Aivazovsky and Picasso. I would say that Picasso's paintings exhibited here are the most affordable ones compared to any other museum in the world – one won't be able to see the great Spaniard's paintings for a 20-Hryvnia admission fee (about 80 American dollar cents).
On the other hand, this story also provides an emblematic image of a teacher named Afanaisy Lun'ov, who did the unthinkable by gathering all these paintings together. If Ukraine had more of such people, our life would be quite different.
How did he manage to do this?
Lun'ov wanted to instill in his young students the feeling of aesthetics, so he suggested establishing a museum. The kids set out to write letters to artists, their friends and numerous galleries and museums across the Soviet Union and Europe asking them to present them with any works of art they could, which those did, believe it or not!
The museum had its own accountant, director and administrator. These positions were held by the kids. They then grew up, received education and started managing the museum for real. This is a story of successful and courageous romanticism.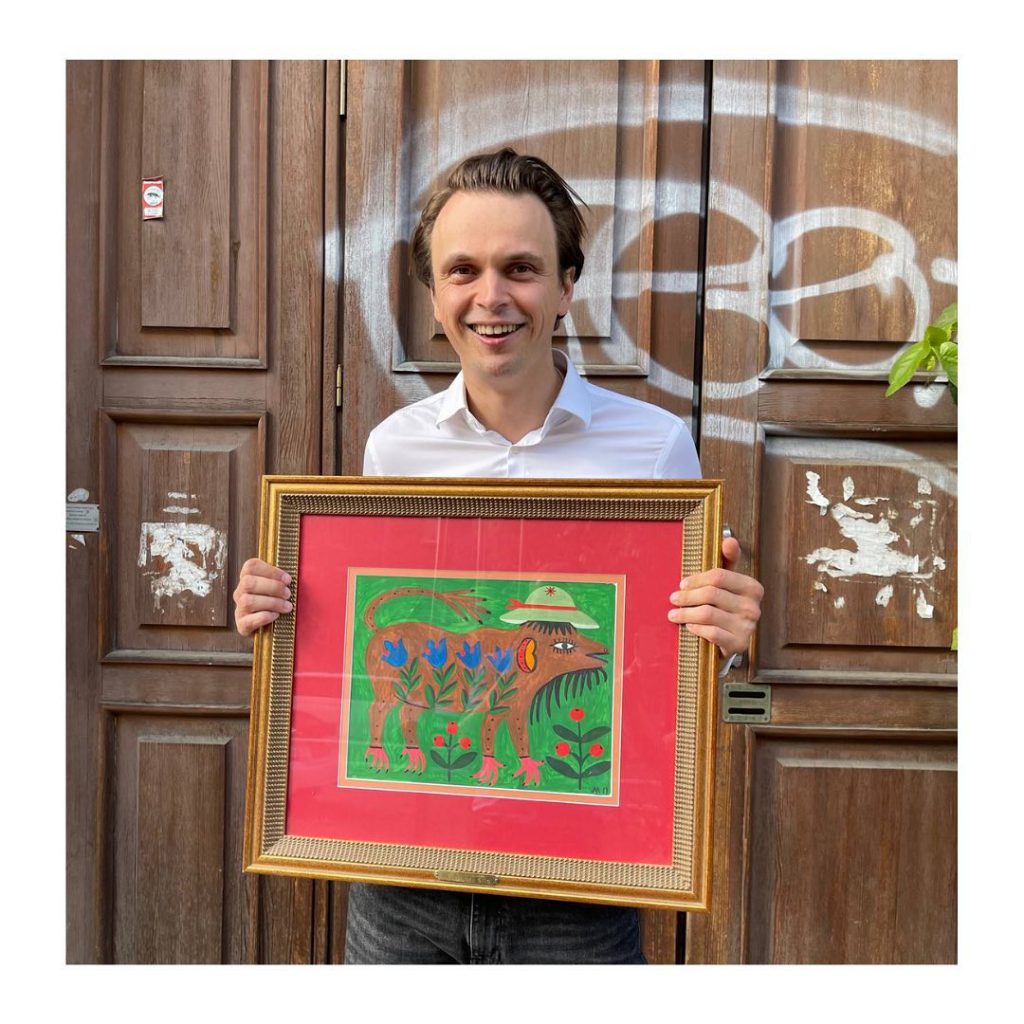 How did you learn about the existence of the museum?
I came across an article on the portal 'Ukrainska Pravda' (one of the most popular news portals in Ukraine), which was a kind of a trigger. This story sets a good example of responsible journalism where the texts published by one's favorite media impact people in such a way that they feel encouraged to bring about changes in their country.
I went to that village to see everything for myself. I saw just how dilapidated it was. However, I knew that the museum had the potential for the development of the whole region. My team and I embarked upon the task of popularizing it.
Our goal was to make investment in the project in a way that would make it a showcase for other communities, teaching them to cherish their values. Parkhomivka is a good example of how virtual assets (such as cultural heritage) may provide an incentive for changes at the level of entire regions. If we manage to revive the god-forsaken village by modernizing its museum, this may pave the way for the revival of other depressing villages. Slava Balbek, the architect, once commented this as follows, 'If we keep developing such villages, they will with time make the entire country successful'.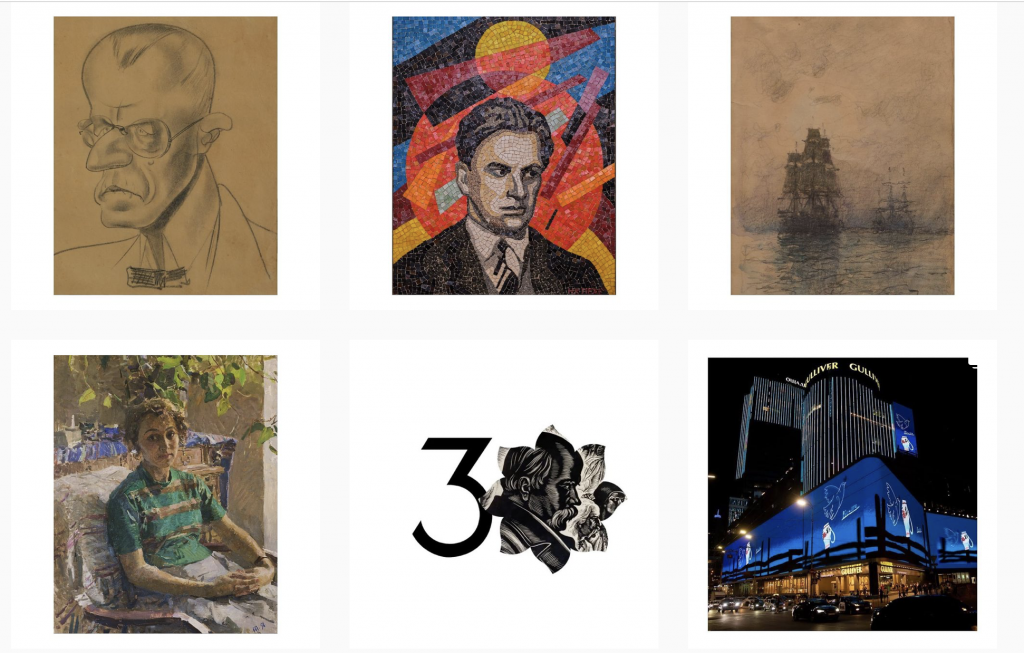 What steps do you exactly take to popularize the museum? What have you achieved so far?
We started working on its visual identity. The motion graphics for the project was developed by one of the world's finest illustrators, Serhiy Maidukov, who also cooperates with The New York Times and The Washington Post. We then built a website and set an account on Instagram. For this purpose we conducted the first professional photo session of the museum's paintings. We then went on to design different merch – T-shirts and shoppers with copies of the paintings printed on them. We also engaged opinion leaders in its popularization. Apart from that, we placed ads in those towns from which the museum can be reached within a five-hour-ride. These were Kyiv, Poltava, Kharkiv, Sumy, Cherkasy, Zaporizhzhia, Nikopol' and Dnipro to name but a few. The press also joined in with our efforts by helping to promote the museum among the broad public.
The museum's audio-guide is available in two languages. Alina Pash did the English voice-over and Serhiy Zhadan provided the Ukrainian one. The public response was incredibly positive.
At the outset of the project our main requirement for the voice-over was that it was supposed to be done by the coolest singer and writer. We were offered popular brand voices (a person whose voice is a company's trademark) from radio and television.
Currently we are working on the museum's modern exposition. We have already gathered paintings by Ivan Marchuk, Illia Chychkan and Anatolii Kryvolap with the latter having 'donated' five of his paintings. I myself have presented the museum with a painting by Maria Prymachenko. The exposition's total net worth is going to reach the mark of about 2 million Hryvnias (about 80 thousand USD). I want the Lun'ov's story to come true in these modern days.
Has your campaign produced any results?
It really has! The number of visitors is growing by 50% every month. Lots of Ukrainian journalists and their foreign colleagues come to the museum. Almost all of the TV-channels have covered Parkhomivka. Last summer about 10 million people learned about it.
Speaking of foreigners… I have read an article in the regional media saying that the museum is hardly known to the public in Ukraine and it is more known abroad. I find this assertion peculiar to say the least.
Frankly, I have never measured Parkhomivska's popularity abroad. I think this assertion is not consistent with reality. One of the clichés has it that Ukrainians do not appreciate their own heritage unless foreigners start talking about it. To my mind, people in Ukraine know more about it than anyone else abroad.
Might this story be of any interest to the world? It could be. It has an air of exclusiveness. However, its recognition requires lots of hard work.
On people who are ready to promote history
What about the infrastructure? It is one thing to modernize the museum, it's another thing to reach it, which is a challenge.
Not long ago the government commenced repairing the road leading to the village within the framework of the state program called 'Velyke Budivnytstvo' (the Ukrainian for 'Big Construction'). We sent a request to the President's Office and then the road repair works began. These repair works are funded by the taxpayers' money, otherwise we would never have managed to tackle this problem on our own.
This road will play a central role not only to the museum, but also to the village in general. The road runs across the village and not all of its inhabitants are happy about this fact. Some of them prefer to keep living in dire conditions with nothing happening around. The locals still fail to grasp the value of the neighboring museum. They pin their hopes on a sugar refinery, which they deem brings much money. However, the refinery is way cheaper than any of Malevich's paintings.
Are you attracting any investments?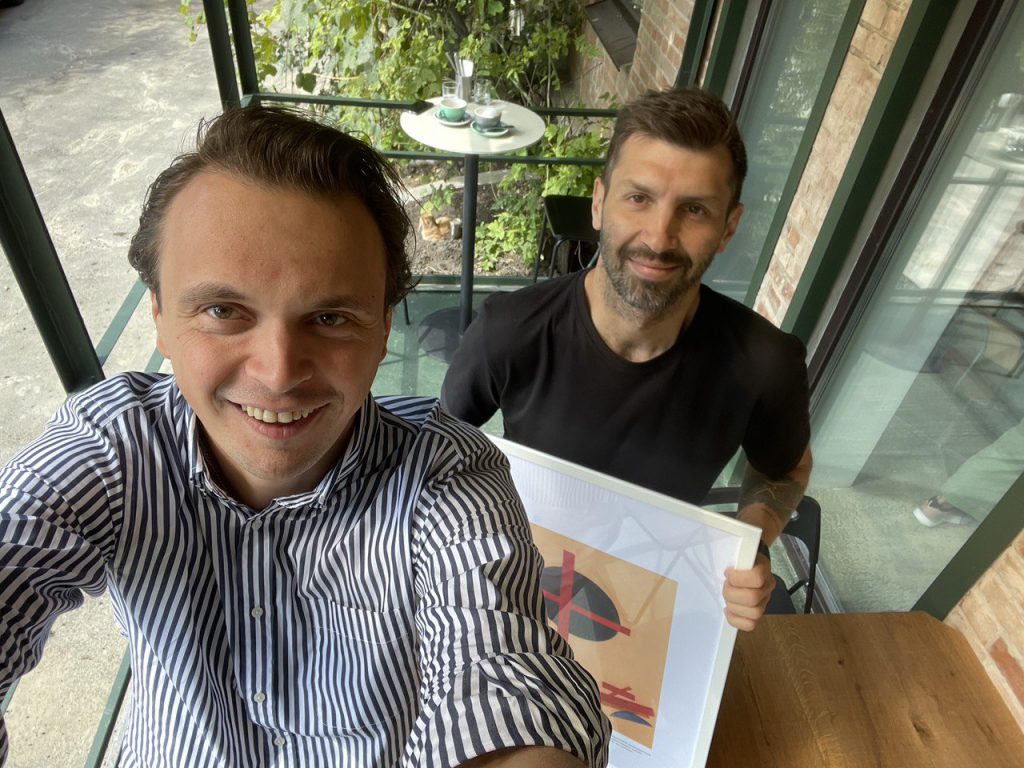 We have been working all by ourselves from the very beginning. Everyone involved (about 300 people) in modernizing Parkhomivka has been doing it for free. The creative agency that designed the visual identity of the museum, the opinion leaders such as Sevgil Musayeva and Svyatoslav Vakarchuk, Alina Pash, Serhiy Zhadan and Slava Balbek – all of them are idea-driven, they are not interested in remuneration. All of them realize the importance of history in the life of their country. I must say there were also celebrities who would agree to cooperate only for a fee.
AJAX offered us a free installation of their wireless security system at the museum. The company is paying for this out of its own pocket and it makes sure that everything functions properly. Gulliver Mall ran ads on its screens every 10 minutes during a week for free. One can only imagine how much this would have cost us. Businesspeople from many Ukrainian cities allowed us to place external ads at public transport stops for the sake of Parkhomivka's promotion. Epicenter K (a national chain of stores in Ukraine) donated 500 thousand Hryvnias (nearly 20 thousand USD) for the restoration of the museum.
Negotiations are currently being held with a world-class company about a free installation of a contactless payment system.
We have also been offered on multiple occasions to settle all financial matters of the museum on condition of drumming up hype around a certain person. We have refused such offers. This is a story about a village that unites people around its museum. It's not about one person changing the region without anyone else involved.
Why has no one addressed this issue before?
Leonid Kuchma (Ukraine's ex-President) once said, 'There is a project. If someone deals with it, it will be implemented'. The museum is not taken out of the country's context. No one has ever assumed that culture may play the role of a virtual asset before. Finally this day has arrived. Odesa, Lviv and Kyiv have begun 'leveling' art communities up. Finally, there is a general awareness of art being important. However, I reckon that in the Parkhomivka case this awareness appeared back in Lun'ov's days and we are now experiencing our analogue to the Renaissance.
On plans for the future
Are there any problems that the museum is still grappling with? Is there anything you want to change there?
First of all, we are trying to redesign the entire museum. We can achieve this thanks to an investment from 'Epicentre K' and a project from the architect studio 'Balbek bureau' (its founder is Slava Balbek). We also have plans in the pipeline of fitting out a museum room for modern expositions and an entrance to the museum, of building a shop and a cloakroom. However, to fully implement this project we will be requiring assistance from investors and the state.
The thing is, we have set a goal of doing global things at a local level. We will not make do with mediocrity. We want top-notch results. If we are talking about design – we want the most famous studio in Ukraine. When it comes to purchasing goods, we want to cooperate with one of the biggest market chains in the country. In doing so, we make sure that more companies will be willing to cooperate with us in the future.
Second, the museum is in need of repair. There are emergency zones that are in urgent need of complete overhaul. This year we have started doing things that we can do. But we have also worked out plans for the coming year.
Third, we want to invest in staff. Museum's personnel are great people who glow with enthusiasm about their pet project. Take the example of the museum's director. She is one of the students who were taking care of the museum in Lun'ov's day. She has been attached to it ever since.
However, we would like to extend their knowledge. At the moment we are looking for partners who would take them on tour of museums abroad. Personnel at Louvre, Prado and Uffizi could share their experience with them. It would fill them with more drive and global mindset.
Of course, we are also devising plans of promoting business in the region. We are dreaming of cafés and hotels there. Companies engaged in the fashion industry have already begun offering us to use Parkhomivka's brand marks for producing memorabilia. At the same time we want the local businesses to grow as well.
We are intent on showing that the world is changing and that one should take a modern look at art.
In other words, is modernization the only chance to whip up people's interest in culture?
The public will react when something is happening. We have not renewed the museum. We have simply said that it exhibits paintings by Picasso and Malevich. We have urged people to visit it. Such things do arouse interest.
One of our tasks was to do things quickly. Had we been slow off the mark, the interest in the changes occurring in Parkhomivka would have fizzled out.