With the beginning of the Russian full-scale invasion, many cities of Ukraine have become temporary shelters for hundreds of thousands of Ukrainians. Many people have offered their homes for fellow Ukrainians who were fleeing the war from other regions of the country. Over these months a decent number of volunteer projects have been launched that help forcibly displaced persons. All these developments have had their impact on the development of the Ukrainian cities, which has set off various creativity processes that render them unique. Take the example of the city of Uzhhorod.
We have collected three stories about volunteer initiatives of this city that have spawned up in recent months. The initiatives have brought together the local community and those seeking permanent shelter. Art therapy for children and adults, the first laundry room/coffee shop that helps forcibly displaced persons and those who find themselves in dire straits are also on offer. The city also has a volunteer center where people can get clothing and other stuff free of charge.
'While you are drinking coffee here, someone else may be doing their laundry'
The first laundry/coffee shop 'Bul'ka' was opened in Uzhhorod at the beginning of May 2022. There had been no such shops in town before. The idea of launching a social laundry came after forcibly displaced persons began coming to the city en masse. Director of the charitable foundation 'Caritas' of the Mukachevo Greek-Catholic diocese, Myroslav Rusyn, and his colleagues visited places (where people were accommodated) to collect information about their needs.
'There were three main requests: housing, food and clothing (or washing clothes that displaced persons were wearing upon their arrival). At first, volunteers covered those needs but as the influx of new people gathered pace, they couldn't cope with the task physically. They could do the laundry but it was no longer possible to have such a big quantity of clothes dried', says the spokesman of charitable foundation 'Caritas' of the Mukachevo Greek Catholic diocese, Vitaliy Dyachuk.
Since the request of housing and food was more or less covered, volunteers hit upon the idea of launching a laundry.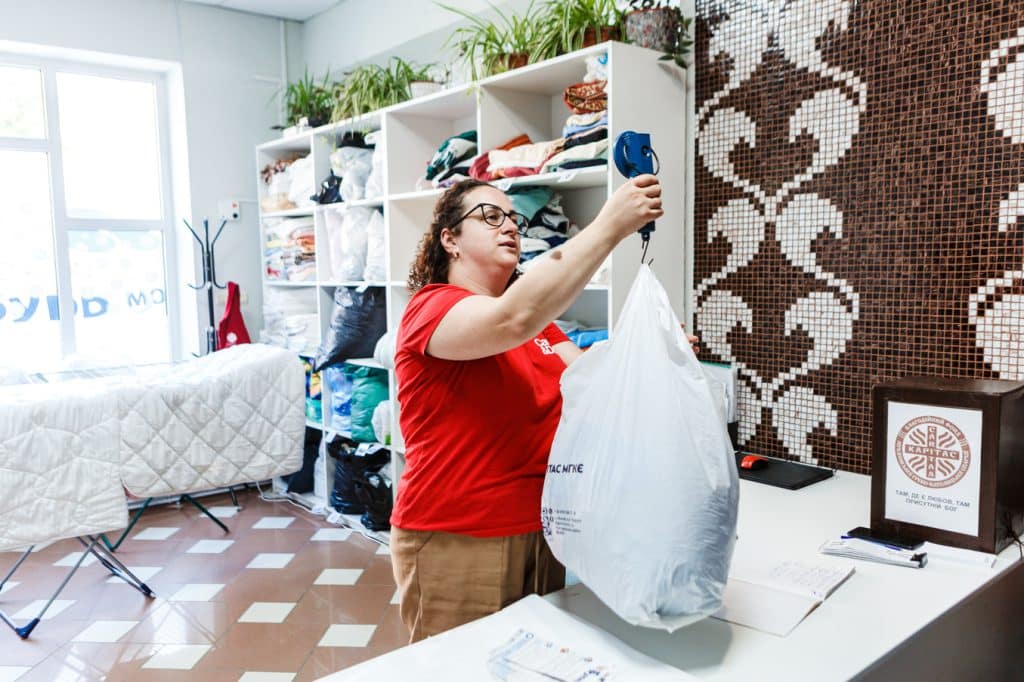 The premises for it (currently rented for free) have been offered by a local entrepreneur. They are rather big and consist of two wings.
'People who have brought their dirty clothes need to wait somewhere while their laundry is done. This is why we decided to open a coffee shop, since coffee is not only a beverage but it is also about conversations and warmth', Vitaliy says.
When parents started bringing their kids to the shop, the founders of the laundry understood that they needed to offer them some entertainment. That's why a big playing room was opened so that kids would not pester their parents while they placed their orders.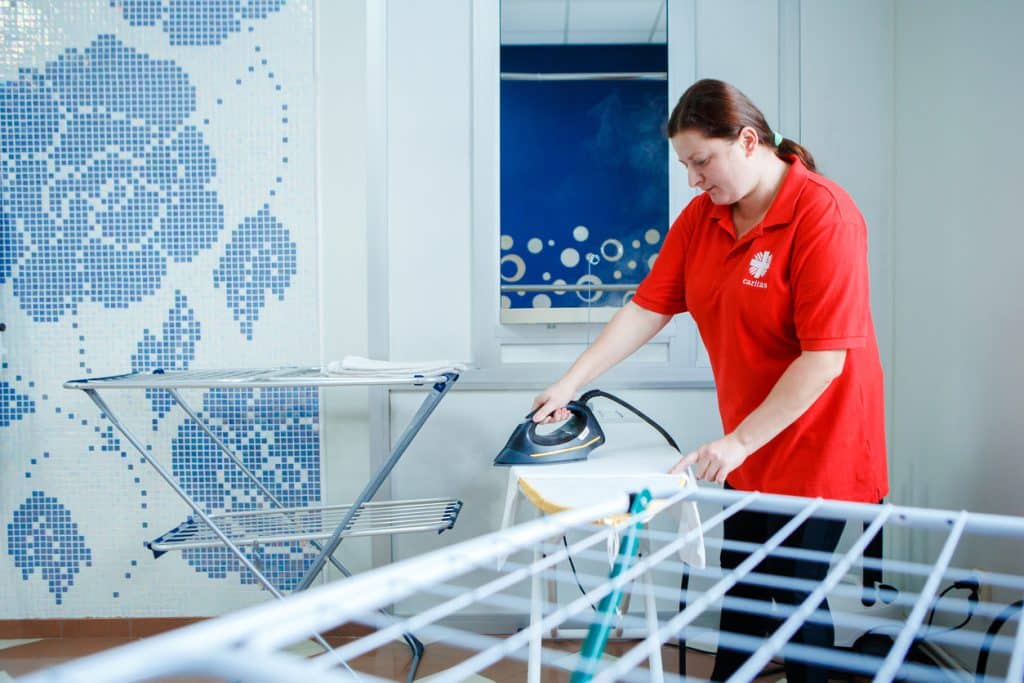 'Our project consists of two components, Vitaliy says. 'One component is for the body and another one is for the soul. The former is about a client coming to us and giving us their laundry. We agreed that we would not give our clients any waiting chips. Orders would be accepted and delivered to clients solely by people. When we are asked about how the laundry should be brought to the shop, our answer was this – do it like you would do it at home'.
The coffee shop is for the soul and meeting other people.
'We noticed that people need communication. Someone wants to give vent to their feelings, others want to lend them a sympathetic ear. That is how we came up with the tradition of holding meetings on the terrace every Thursday. People talk to a speaker (whom we invite) about important topics.'
These meetings are held in a cycle-like manner and are dedicated to such topics as motivation, business, health, etc. Most of the speakers are forcibly displaced persons from Kharkiv, Odessa, Kyiv, Kramatorsk.
Children are also offered to spend their time meaningfully. 'We reached a deal with a language school that kids would be taught English for free as well as offered master classes (in the form of games) in the Ukrainian language', Vitaliy adds. 'These events first and foremost target forcibly displaced persons. However, locals visit them as well. Nobody is denied access, since we want to build a community'.
Two employees working in the social laundry have previously gained experience in a similar field. There are two baristas in the coffee shop. There is also an administrator. They are all locals.
'I guess we have to deploy a business-oriented approach here,' Vitaliy says. 'Often people with big bags come to us. We do the laundry for free for local pensioners. Our laundry also offers services for volunteer centers. We also have a service for social taxis which help deliver orders and take people to their destinations. We may sometimes run low on resources, but we manage to find them nevertheless'.
Vitaliy says that people may not always understand the concept of the laundry.
'At times our visitors are under the misapprehension that coffee is also free. However, the principle of our work is as follows: by paying for your coffee someone else may have their laundry done for free'.
The project has had its continuation. 'Caritas' is renting a big space. A conference hall there will host a summer camp for children.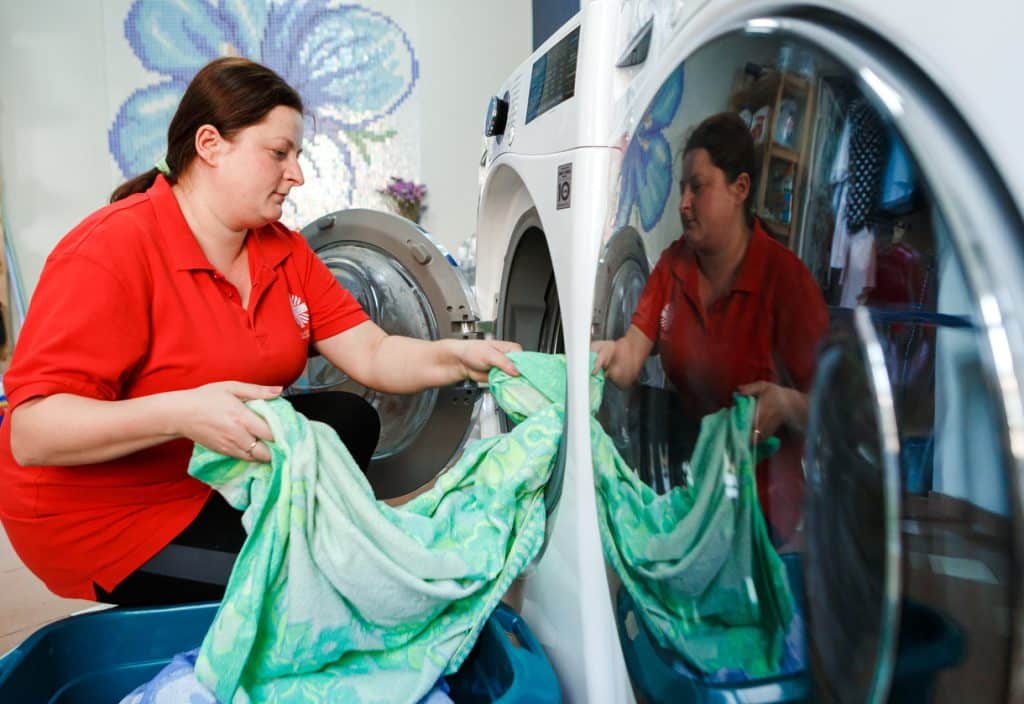 'We are opening another social laundry working on professional equipment', Vitaliy adds. 'So we can accept bigger orders. We are also planning to open a social bakery that will offer food for forcibly displaced persons and people who find themselves in dire life circumstances. The bakery will cover the needs of other places located in Uzhhorod and those of our coffee shop'.
'The main resource is time and love for kids'
Yuliya Dub is a native of Uzhhorod who lived seven years in Kyiv. At the beginning of the full-scale invasion she returned to her native city. Together with other volunteers she has launched the initiative Creative Volunteers of Uzhhorod. She admits that it was quite easy to organize this since she used to work in the public sector in her student years.
Yuliya searched for people to join her on Facebook. She asked whether anyone had scissors, paper and other office supplies needed for master classes that she was going to do. Gradually she found the right people: someone would help her find glass beads, others would offer her a place to do master classes a few times a week.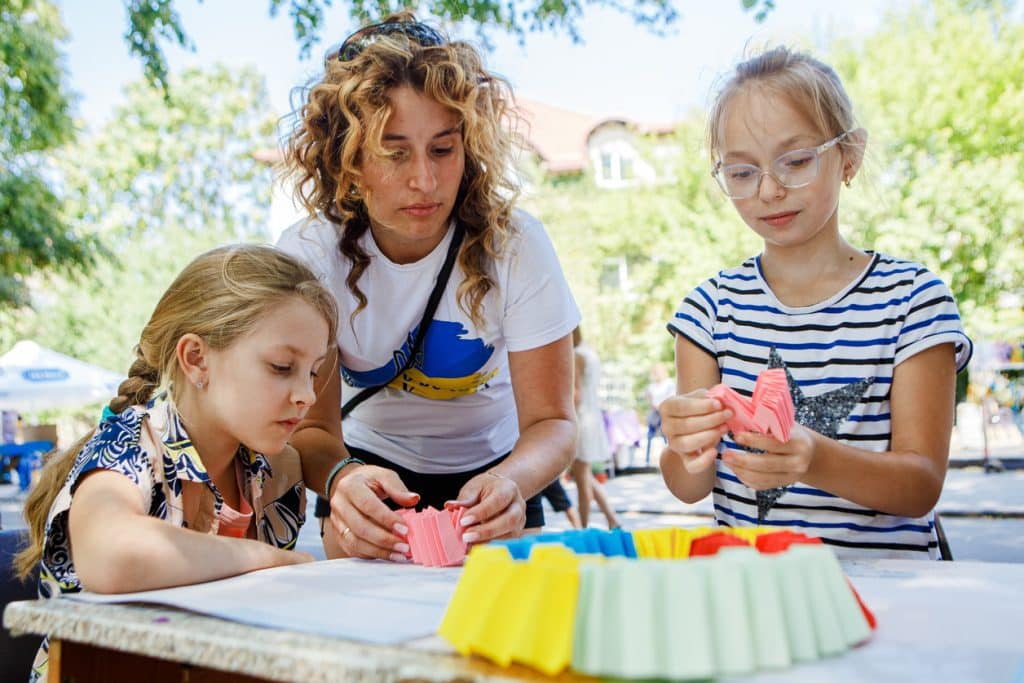 'One day Angelina, Anastasia and I came up with the idea of having our own center for children', Yuliya says. 'I set about finding premises in the city center that would have a bomb shelter. The premises of the local university were the most suitable place. So, we came to the university and people there gave us a room which we refer to now as our 'general staff'.
The project attracted different folks: displaced persons and their kids, locals, etc. First master classes were organized. Those locals, who were not indifferent to the initiative, brought everything that Yuliya needed for her master classes. Fairs began to be held. Artisans were invited. An option for donation for the Ukrainian army was also launched. Thanks to such cooperation the project has managed to unite the local community with those seeking temporary shelter, which has been conducive to the emergence of new opportunities for the city's development.
'We work in two main directions', Yuliya says. 'First one is entertainment opportunities for kids. On the weekend we organize a bigger event in the city center. The second direction is about raising funds for the military and transferring them to volunteers who are directly dealing with procurement of necessary equipment'.
Yuliya says that their main resource lies in the opportunity to create something with their hands. It is this art therapy that helps deal with anxiety and overcome trauma. Yuliya is surrounded by children who are drawing and actively discussing something while we are conversing.
'The city is thronged with parents and their kids', Yuliya says. 'The vast majority of them live in conditions that leave them no personal space or in a place where they can not give their creativity free rein. We want to let children live their childhood and leave their parents the opportunity to relax, have their kids taken care of and go about their business.'
At first, the participants of the initiative were hoping to be able to work daily from 10 to 6. As it was mainly volunteer work, things proved different. However, they are doing their best to do 1-4 master classes a day.
Volunteers have already created the installation 'Little Angels of Ukraine' (a wrought-iron map of Ukraine with rag dolls) together with children and their moms . Alongside the organization BUR Zakarpattia and a garden center 'Lariks', they have cleaned the public garden 'Heroes of the Maidan' and planted trees there.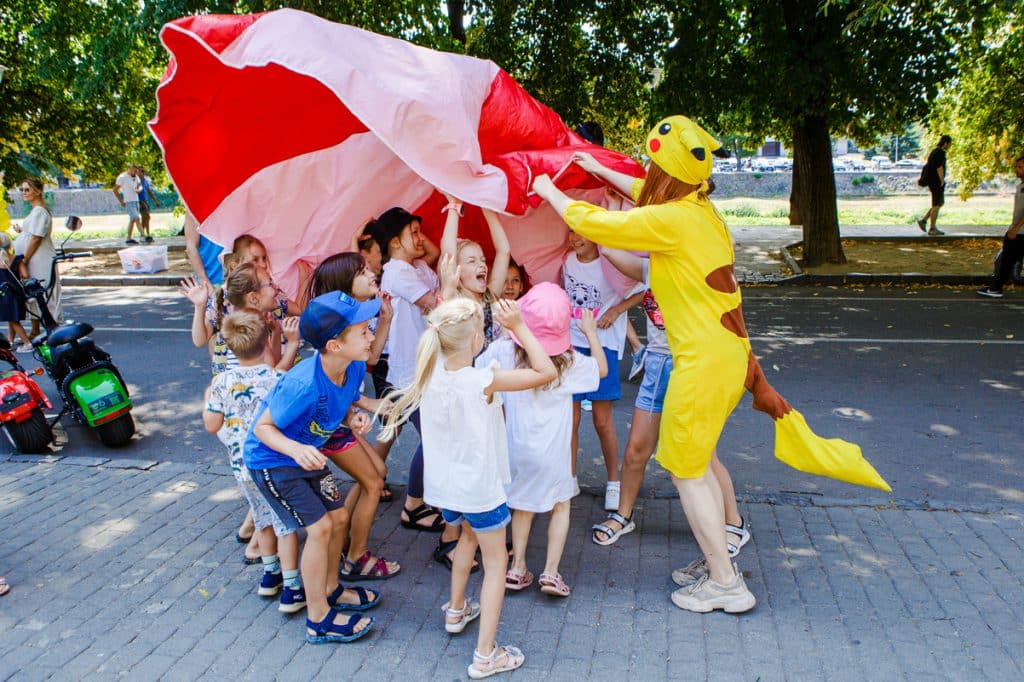 Anyone can join the initiative. Its staff numbers 10 people who are involved in the organization of fairs, tours to the local botanical garden and weekly master classes.
'We've got a wonderful team whose members come from across Ukraine. Everyone puts in just as many resources and time into our joint undertaking as they possibly can. We've got no time to teach you things. You just come here and start getting involved in our activities', Yuliya says.
The hardest thing to do at the start was finding resources. The organizers set themselves a goal of not only working with paper, but also using other stuff for master classes, such as rhinestones, glass beads, and artificial flowers. There was also lots of hesitation about whether the master classes should be done for a fee. Some of the expenses were covered by donations made by parents who would throw money into a special box. Then a few partner organizations began helping with materials.
'People are now getting tired and their involvement subsides', Yuliya says. 'Parents' donations are becoming few and far between. Therefore, the question about the search for ways of keeping on with the initiative has arisen. Our main resource is time and love for kids, as well as our wish to help them'.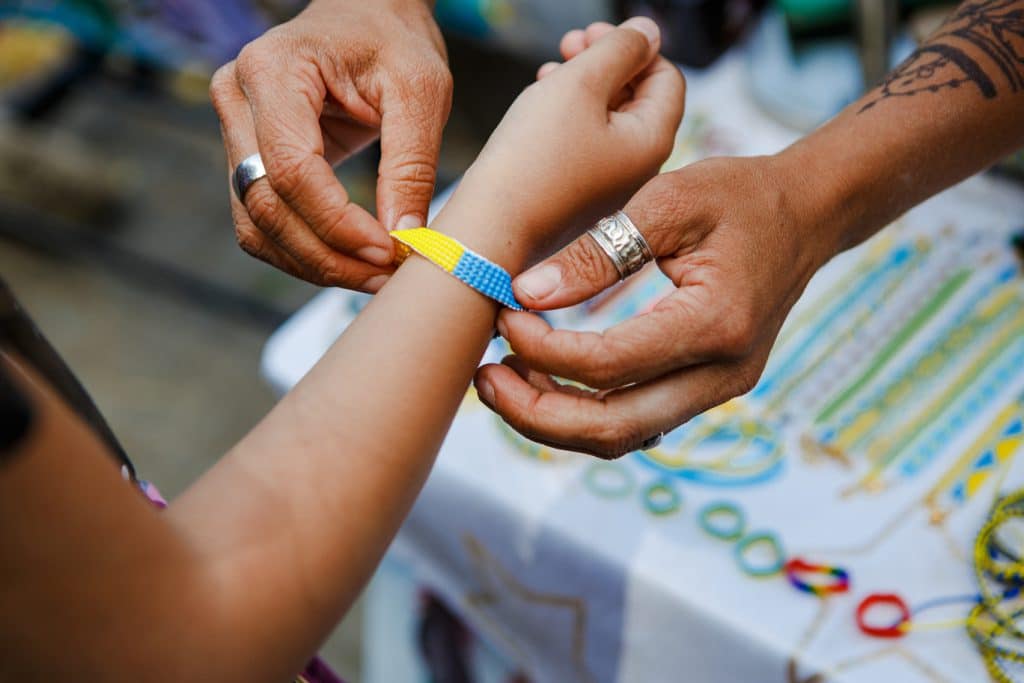 Yuliya assures us that their initiative will keep afloat as long as there is a need for it. She and her team are planning to stay in touch with the organizations that are willing to help with materials. She may also want to eventually have her own public organization registered. Until the end of the summer they are intent on keeping with their work in the present format.
'A tipping point will come in September', Yuliya says. 'We don't know whether kindergartens and schools will open, or how many people will stay in Uzhhorod or return to their homes'.
'Here you wear the same clothes as those at home'
The story of the volunteer hub Humanitarian Wardrobe began at a railway station. Its founder, Larysa Kovach, says that on the fourth day of the full-scale invasion she was meeting her daughter there who was studying medicine in Kharkiv. Larysa saw lots of people coming to the city. After that she spent two months at the railway station meeting and accommodating people.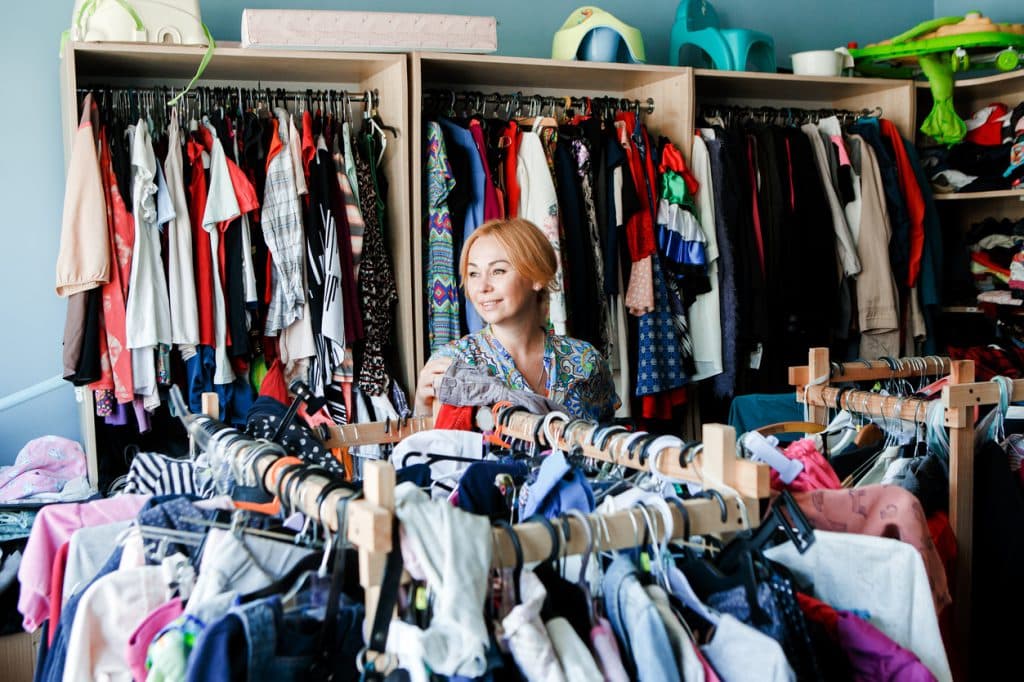 'We worked from 8 am to 3 am', says Larysa. 'We would search for free mini-hostels or put displaced persons up at the apartments of the city's inhabitants'.
At the very beginning trains with 100 people on board would arrive every 30 minutes. The fact that forcibly displaced persons took their pets instead of clothes left an indelible imprint on Larysa's memory.
'When those people were told that they couldn't take their cat with them, they would throw their suitcases away and take the cat instead. It was then that I understood that should a missile hit us, I wouldn't need my suitcase, I would instead need only passports and money as clothing would be provided by not indifferent people'.
Once the madness at the railway station abated, Larisa began thinking about what else she could be doing to help. By that point she had already hosted forcibly displaced persons in her apartment, but she knew well that there were still many of them and she wanted to do something more. It was then that she hit upon the idea of launching 'Humanitarian Wardrobe'.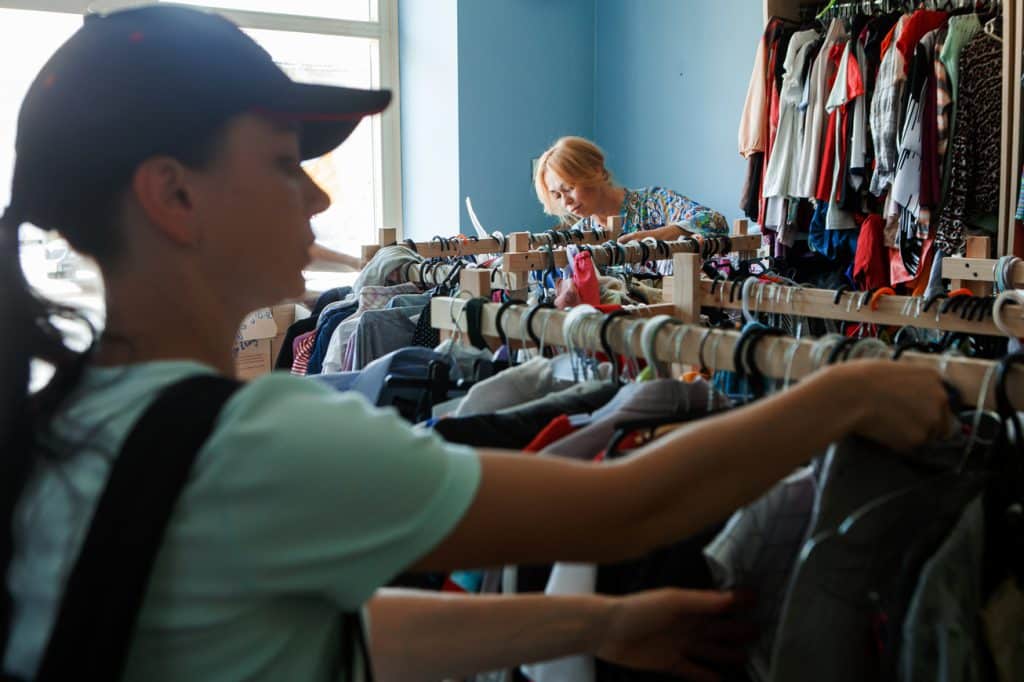 'I have a lot of acquaintances and clients, so I published a post on Facebook saying that I needed clothing for refugees, as well as a warehouse or a room that would be rented for free. A client of mine offered me her shop that was not in use when the war broke out. People began bringing clothes. With every day it became obvious that these things were very much needed, I mean, not only clothes but also kitchen utensils, strollers and mattresses'.
The name of the hub came naturally to Larysa. 'My worst nightmare is to offend a person. I don't want them to feel uncomfortable', Larysa says. 'So I had to come up with a name that would sound both correct and clear. It also has to convey the idea that it was free. Well, I guess the word humanitarian is clear here, and 'wardrobe' stands for the coziness you feel at home'.
Four people are permanently employed in the hub (with three of them being forcibly displaced persons). There are also about 20 volunteers. Work of the hub is coordinated through a chat on a social network. Whenever someone has spare time, they come to help. Larysa understands that people cannot work all the time, since all the activities in the hub are done on a voluntary basis.
There is another difficulty faced by the hub, namely, when people feel shortage of something.
'About 250 people a day may come to us', Larysa says. 'Everyone may take as much stuff as they want. There are no limitations. If you need a glass, shorts or a sleeveless short, you're welcome to take them'.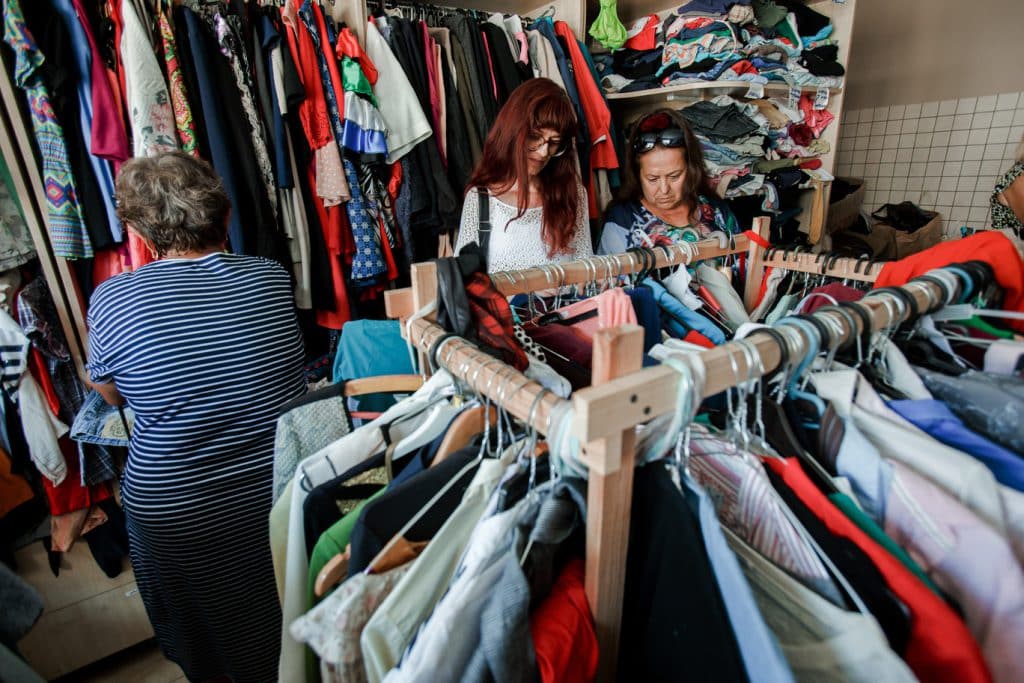 She also constantly searches for food packages.
'The road leading out of town is not far away from us. Our hub is visited by many people from neighboring villages where they have been accommodated. Food packages there are quite hard to come by. They cannot receive them in Uzhhorod since their place of residence is not registered in this city. Therefore, we are trying to constantly have some food products in store. Charitable foundations help us with that'.
Our critical need at the beginning of the summer was light clothing. Now, as all forcibly displaced persons have already been provided with it, they need underwear and linens, plates, pans, etc. People have come to realize that they would not leave the city in a month, as they used to think before. They have begun to settle down. Those women who were pregnant at the time of their arrival are now giving birth to their babies, so we need diapers now.
The founder of this volunteer tells us that they already have regular customers. Forcibly displaced persons visit it regularly at least once a month. Those people who have just come to the city pay more frequent visits to the hub.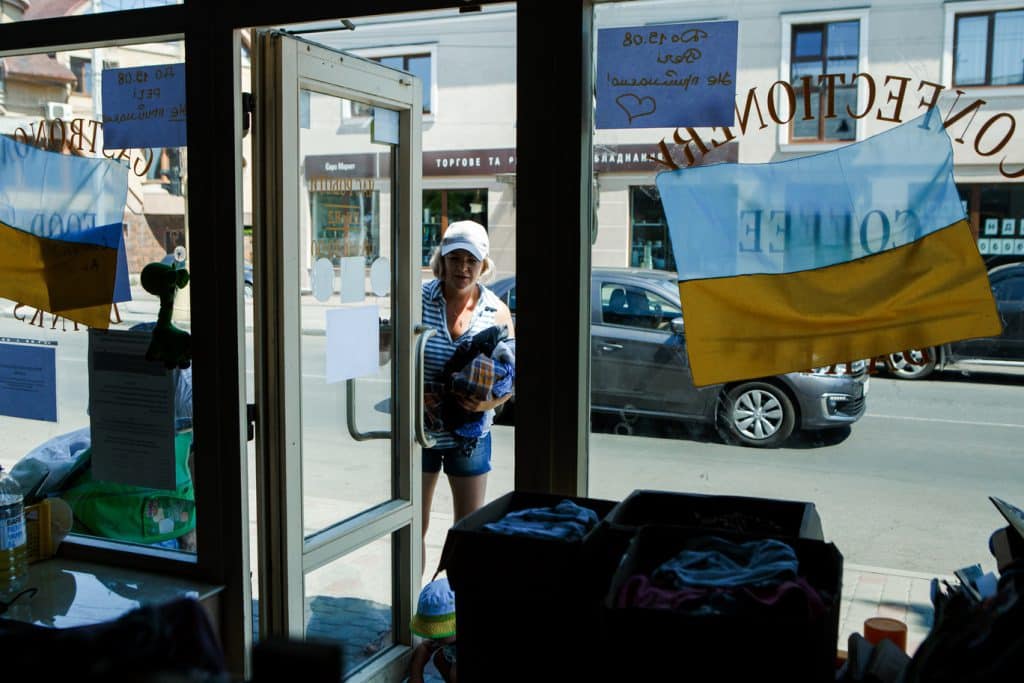 Anyone willing to join the hub's activities is free to do so. You can bring stuff three times a week, namely on Tuesdays, Thursdays and Saturdays from 11 am to 6 pm. Besides, upon request the hub sends clothing or other stuff to any eastern region of Ukraine. To avail yourself of this opportunity all you need to do is compile a list of the things you need as well as indicate your address and provide a certificate or any other document confirming the registration of your place of residence.
Larysa also says that she has always been working in the field of charity. However, she's not sure if she is going to keep working in this format. 'I really want everybody to be able to go home', she says. 'Nevertheless, I will keep working until our victory, even through my tears'.
Places to visit in Uzhhorod
The F. Potushnyak oblast scientific library in Zakarpattia. Since the Russian full-scale invasion the library has been collecting books for Ukrainian refugees, sending them to different countries across Europe – the Czech Republic, Austria, Slovakia, Germany and Estonia. Books are also being sent to bomb shelters throughout Ukraine, the ones that are located in the combat zones.
Since the end of July a new project called ТАТОhub has started functioning on the premises of the library. The project is about fathers spending time with their children and the provision of the latter with different development opportunities. The project also promotes partner relationships within families. Since February 24 the hub has turned into a center helping forcibly displaced people and those affected by the Russian aggression in Ukraine. It also provides assistance for families in the context of martial law imposed throughout the country.
Address: Svobody avenue, 16
Opening times: Monday-Friday, from 9 am to 7 pm. Sunday, from 10 am to 5 pm. Sunday is a day off.
The integration center for forcibly displaced persons and local youths was established in July 2022. Similar spaces have also been launched in Lviv, Ivano-Frankivsk and Chernivtsi. The centers offer educational activities, training sessions and meetings with famous people. An English club will also be available, as well as discussion and library clubs.
Address: Shvabska street, 12 b
Opening times: 10 am – 7 pm
Territory of Tranquility is a space for children and adults that was opened at the end of March 2022 in the cultural center of Uzhhorod ALIVE. A stage and a garden have been laid out here where city residents and guests may spend time with benefits. The center offers out-door film screenings, jam sessions, master classes, console games, picnics, etc. Anyone may join any event held in the space.
Address: Orlyna street, 13
Entry fee is optional in the form of donations.
The Zakarpattia Tyvodar Lehotsky oblast history museum. The museum's most precious exhibit is the Uzhhorod castle, which is the oldest building in the city. Visitors are offered to participate in theme-based excursions, quests for children of forcibly displaced persons are on offer as well as lectures, music concerts, charitable auctions, etc.
Address: Kapitulna street,
Opening times: from 10 am to 5 pm. Monday is a day off.
During the martial law period preferential tariffs are available.
Theater-studio of forcibly displaced persons 'UZHiK' is a unique project run by amateurs, people of various professions who have moved to Zakarpattia from all over Ukraine. In June 2022 they staged their debut play in Uzhhorod loosely based on Shakespeare's 'King Lear'. The play was called 'King Lear: How we were searching for love during war'. Similar plays have been staged in Mukachevo and Khust. For its newly minted actors the theater has given the opportunity to get over horrors of war and evacuation. A tour through Ukraine is being planned. The actors have also been invited to tour abroad.
The play was put on in the Zakarpattia oblast palace for youth creativity 'PADIYUN' (located in the Studentska Naberezhna street, 8). The theater-studio is part of a wider support provided to refugees at 'Cinema Space'.
Address: Kyivska Naberezhna street, 3 (2nd floor).
The museum-cafe 'At the Castle' is one of the Uzhhorod's oldest coffee shops. It was founded in 1988 by a native of the city of Tyachiv, Yuriy Rusnak. He has been working in the shop ever since.Locals refer to Yuriy as 'a symbol of the city', advising everyone to meet him should the opportunity present itself. The shop is also special because of the antiques that have been preserved there. Even after 30 years visitors still come to this place to savor its specialty, a sandwich called 'Snack', which the shop has been serving since the very first days of its existence.
The museum-cafe frequently hosts different cultural and art events. Even a film has been shot on its premises.
The Uzhhorod castle is a stone's throw away.
Address: Olbrecht street, 3