We are in the central square in the city of Kropyvnytskyi. The red-and-black flag (previously used by the Ukrainian Insurgent Army – translator's note) flutters on the site where 8 years ago a monument to a Soviet revolutionary, Kirov, used to stand. Below the portraits of Ukrainians killed during the Revolution of Dignity are placed. These portraits were taken back in 2014 by local activists, as if they had known back then that a new monument to fallen heroes would be long in coming. It was here during the Heavenly Hundred Commemoration Day, February 21, 2022, that local activists were pondering a new action plan in case of a Russian full-scale invasion to be able to respond to it right away.
From tents to multi-million deliveries
The yellow stele located on the city's waterfront reads in blue letters 'Be brave like Ukraine'. Before April this year in its place there had been a gray concrete monolith where a monument to victims of the Holodomor was being erected. However, money for it ran out right after a plinth and a concrete slab were put up. It all changed when an IT-couple, Dmytro Bohdanov and Alina Markina, used it for their graffiti.
A few hundred feet away the 'Crophub' is located, the biggest volunteer center in the city that played a pivotal role in the first days of the war, providing the military and fighters of territorial defense units with everything, from food to Molotov cocktails.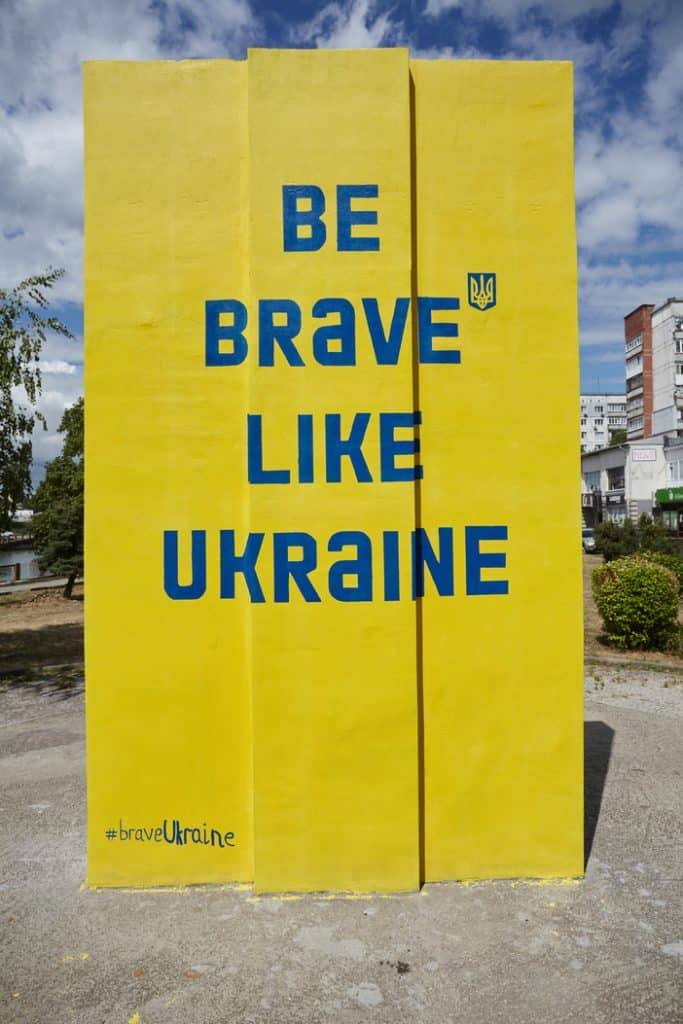 It smells of a loft when one enters a small room without windows: cardboard boxes emitting myriads of smells. The place reminds of an anthill with everyone running about and speaking on their phones. However, it is much quieter here now compared to February 2022.
Kateryna Koltunova's mother, Inna Kolpak, and her fellow thinkers had initiated the launch of the center in 2014. Back then she and her volunteering friends set up tents in the Bohdan Khmelnytskyi square where they began collecting and packing aid for the military and civilians living along the front line.
That year Kateryna had given birth to her baby son, so she was taking care of him without being actively involved in the operations of the center.
In 2017 the city authorities offered volunteers to use an old building located close to the square. It was cold and dark there. The following year the volunteers started renovating all by themselves. They also had their charitable foundation, 'SMILE', registered, which is now being used for all transactions. In 2019 the building was revamped to host the 'Crophub', a space for creative rehabilitation and interaction between the military and not only.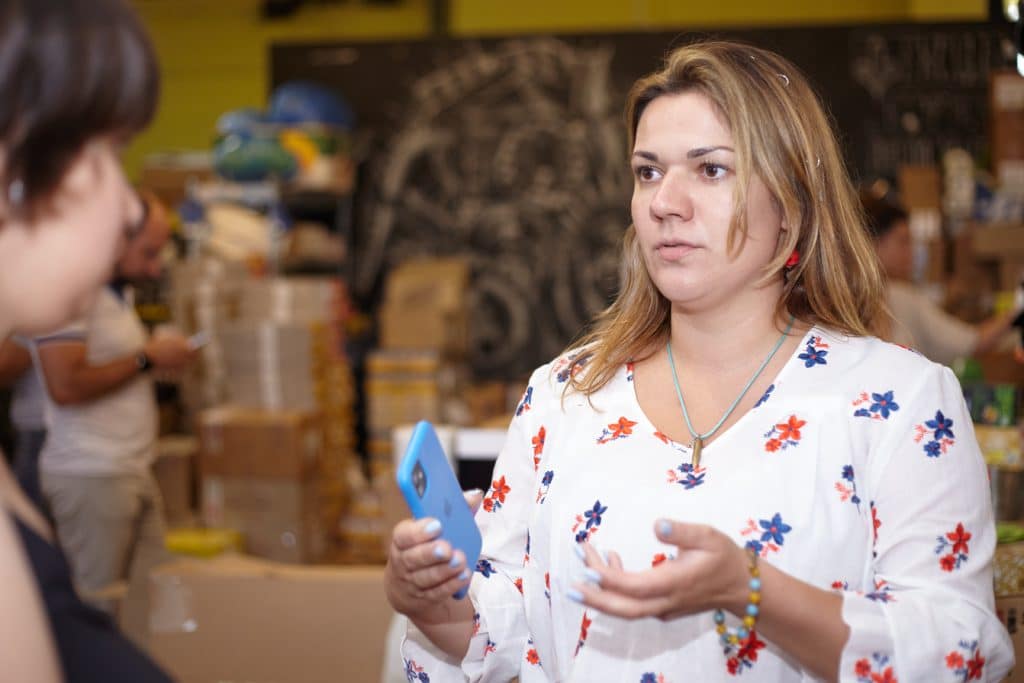 On February 24 the hub was repurposed as a logistics center for all of the city's volunteers.
'The center drew people whom you really want to be close to, who feel the same as you do. These are your true friends', says Inha Dudnik, who subsequently became the head of the center.
In the first week of the invasion, when all shops were closed, a network of contacts and acquaintances played a crucial role. People would call one another asking about who was able to open a shop and get some food products.
'We got expensive cheese and cakes which we delivered to checkpoints. Our soldiers ate Dorblu and Parmesan', says Kateryna.
Locals would bring us everything they had. In the first month, about 600-800 people would come to us every day. Our volunteers could hardly cope with sorting food.
Since the small building could not accommodate all volunteers, its was decided to erect a tent on the Cossack Island located in the city center. Volunteers worked around the clock, collecting donations and providing the military (and eventually displaced persons) with everything they needed.
'About 40 volunteers would be doing their shift simultaneously in the Crophub with another 40 working on the Cossack Island. The backbone of our team was made up of 15 people as well as people representing other public initiatives. There were even those whom we did not know. For example, a woman came whom we called 'a refugee from Italy'. She was married to an Italian and they both lived in Kropyvnytskyi. She came to help as a volunteer', Kateryna says.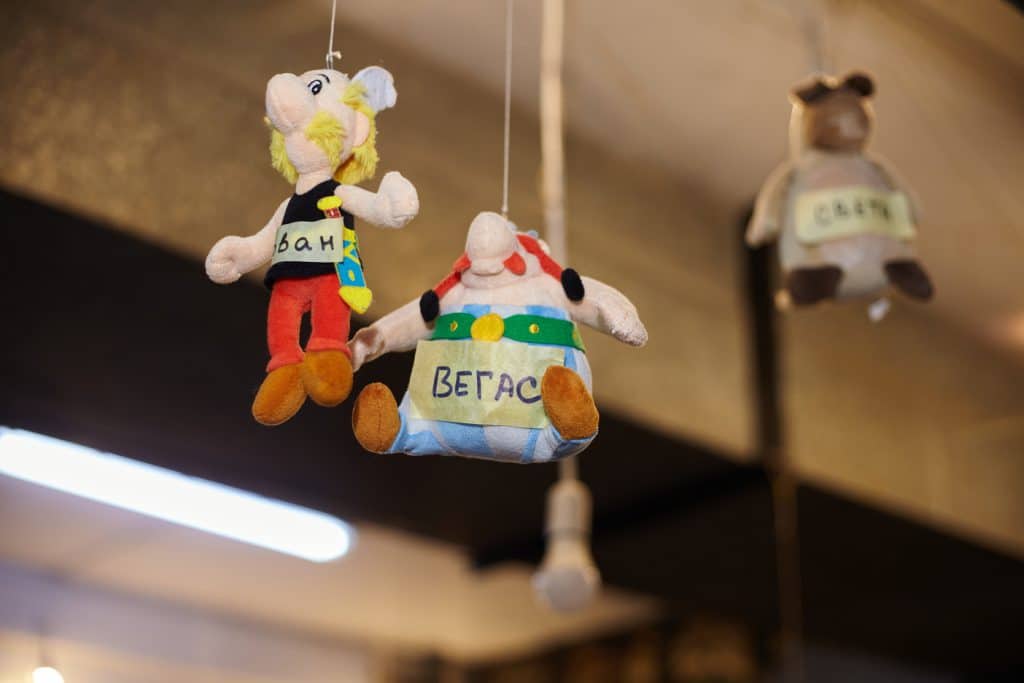 Volunteers organized first deliveries of thermographic cameras. The first cab-over bound for East was dispatched on the fourth day of the invasion along the route that had been worked out since 2014.
Drivers of the cab-overs were reliable people whom volunteers had known for many years. They delivered aid to the front line units. They would also bring bodies of fallen soldiers in the beginning of the invasion, since the government was experiencing problems with that.
'They were afraid of calling themselves volunteers. However, not only were they someone who delivered help, they were also someone who empathized with our soldiers fighting on the front', Kateryna says.
Since February 2022 the Crophub has already dispatched 2000 tons of equipment for the Ukrainian military and about 700 tons of humanitarian aid. A total of 125 thousand USD has been spent. Kateryna says that soldiers on the front are not only in need of equipment, but also moral support.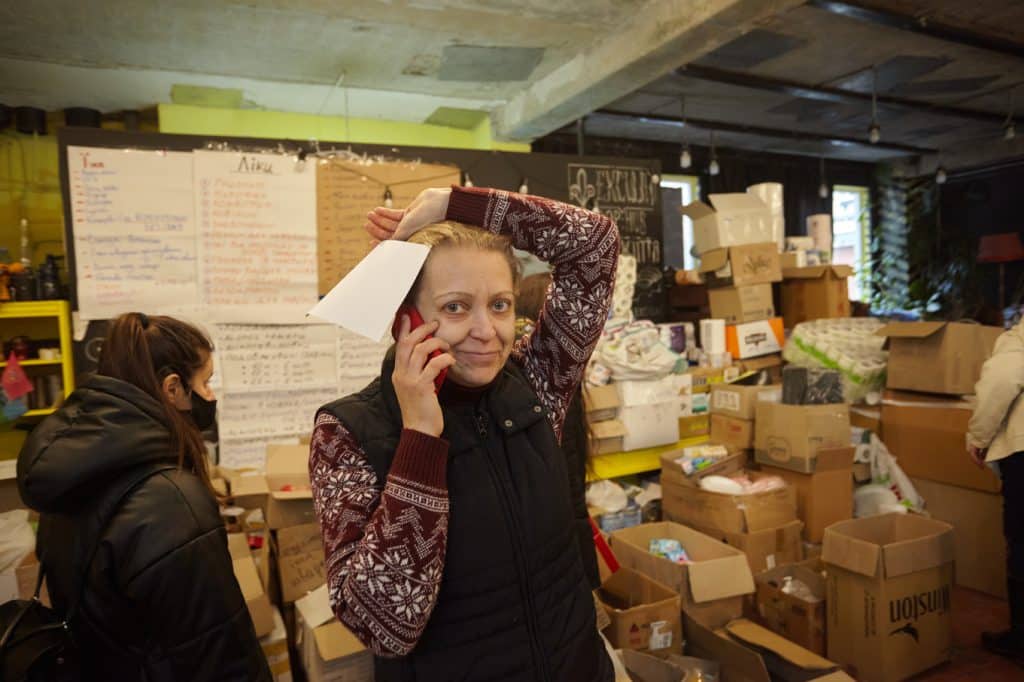 Volunteers' other line of work is the space called 'MYR 2.0' ('myr' is the Ukrainian for 'peace' – translator's note). The space has been active for 2 years now. It is located on the premises of the cinema 'Myr' that was built in the 'Stalin's empire' style.
Kateryna managed to persuade the cinema's owner to let volunteers work on the premises for free who would organize outdoor events. The place was cleaned up last year and the cinema's walls are now daubed with graffiti.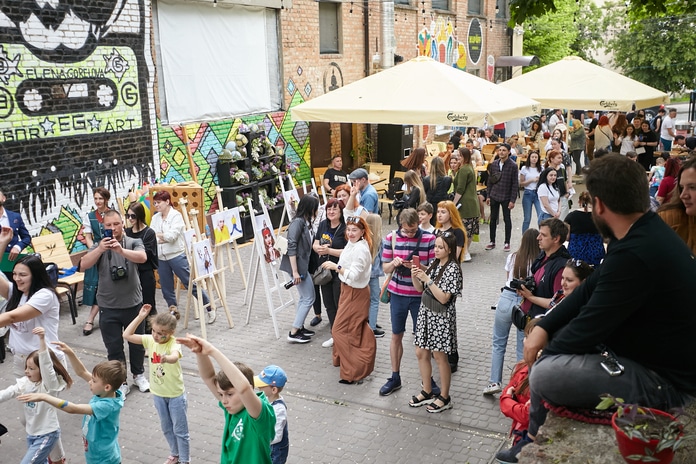 This year the so-called 'creative volunteers' have begun working in the cinema and in other spaces throughout the city with renewed vigor, supervised by a local TV host, Yevhen Zherdiy. Their work is organized as simply as possible: the processing from sale of tickets and master-classes go to the Crophub, and eventually to military purposes.
There are two coffee shops in the space. Last year it was the locals who took care of it. This year a decision was made to let displaced persons from Kherson and Rubizhne work here who used to run business in their native cities before the war.
'Mothers' hearts', the charitable foundation 'SMILE', the space 'MYR 2.0' are parts of one organism. That's how our work manifests itself. We can promote and teach our values, and involve other people in our activities through different formats', says Kateryna Koltunova.
Culinary troops: 'Feeding Patriots'
'The number of options to solve a problem depends on at which point exactly you come to us', reads (in English) a large banner over the entrance. It was left by an IT-company who decided to offer these premises to volunteers. The company had moved to another location, however, they keep paying utility bills, having decided to let volunteers from 'Feeding Patriots' use their ex-office.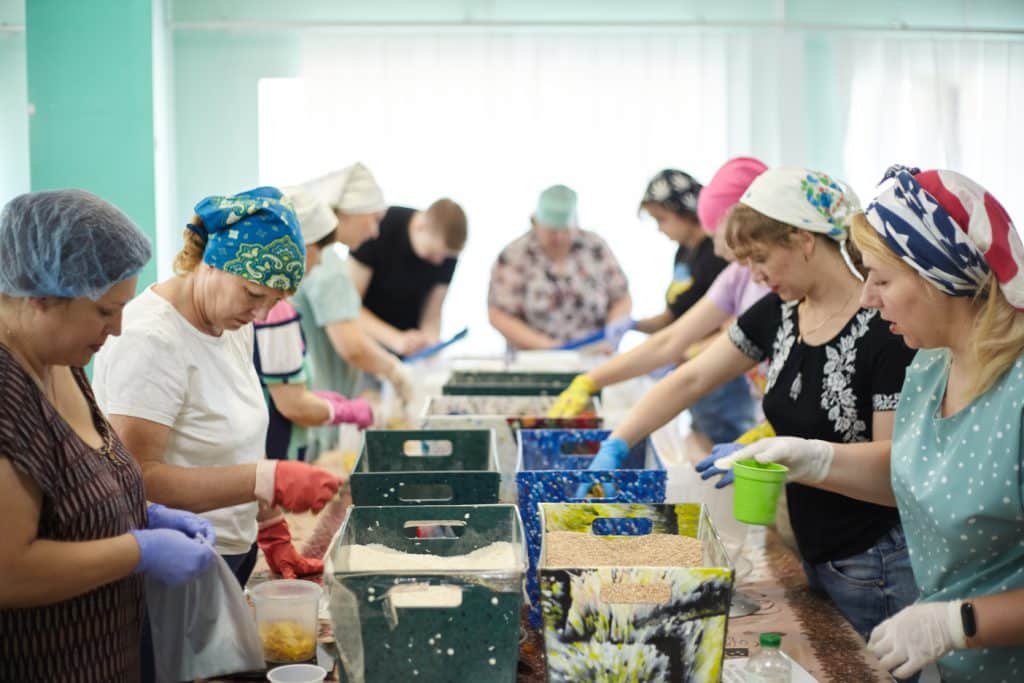 'It's better to do something because you can go crazy sitting at home. In the first months we would weave masking nets. We then worked at a bakery plant. We were packing rusks. And now we are here', says Alla, meaning herself and her friend, Lyudmyla. They are both pensioners and entrepreneurs. Since April they have been coming here to pack dried soups.
On Saturdays volunteers work in shifts (from 11 am and 2 pm) to pack dried soups, ingredients for which they have been drying for the entire week.
This is not a new initiative in the city as from 2014 to 2016 a similar job was done by the organization 'Culinary hundred from the Kirovohrad region'. Eventually they terminated their operations since the process of feeding soldiers on the frontline had by then been improved.
After the Russian full-scale invasion Victoria Talashkevych, who is now coordinating the project, spread the word on Facebook about its relaunch. Currently, 30 experienced volunteers make up the backbone of the project with another 200 new volunteers. A third of them are people who have recently come from other Ukrainian regions.
Some of the volunteers come only to help with packing while others dry ingredients at home. In the common chat they distribute tasks between one another.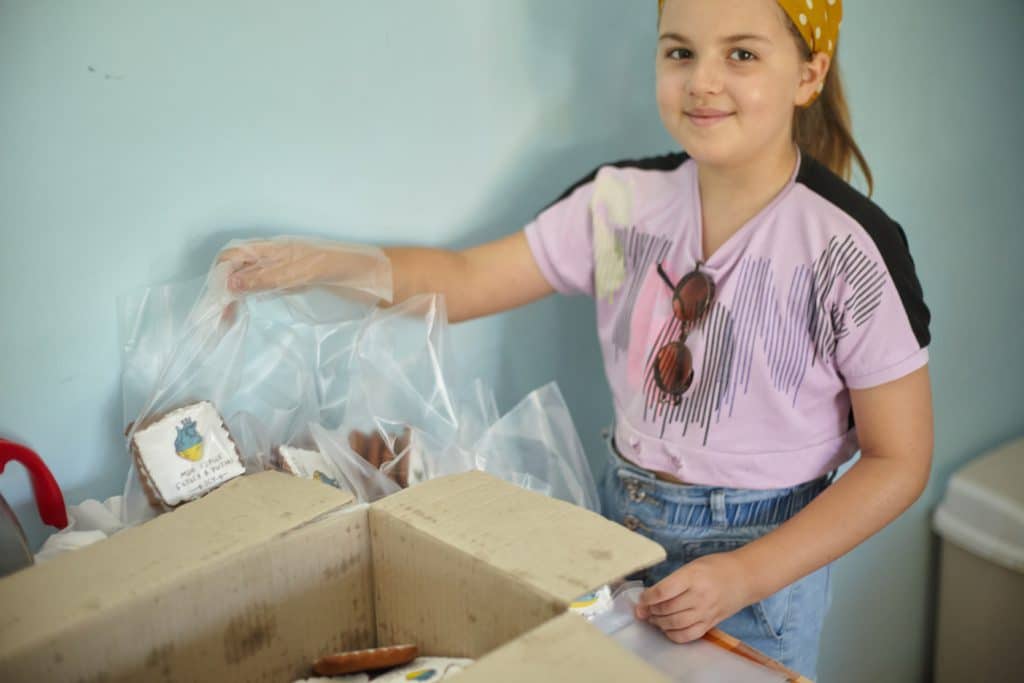 In the spring there was an issue with onion and cabbage. It was inconvenient to dry onions at home because of its smell while cabbage went considerably up in price. The volunteers managed to receive financial help from donors.
'From time to time problems do occur with the potatoes since the process of drying them is a bit more complex. You have to boil and then wash them. So we found a supplier from whom we could get already dried potatoes. As for beetroots, we had dried so much of them back in the spring that we are still using them', says Victoria Talashkevych.
Natalya Buryanenko is responsible for procuring vegetables. She's an old-timer, having helped dry soups since 2015 after she had moved here from the city of Antratsyt. She says that they are ready to go and get food products from anyone willing to offer them.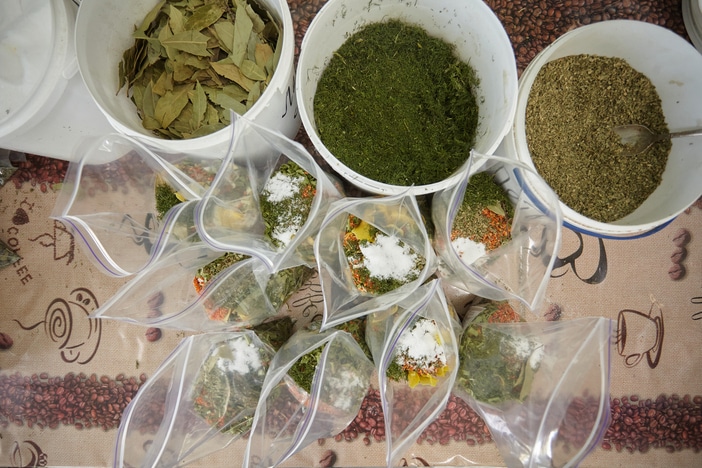 Now there are coordinators working in city districts who deliver vegetables provided by Natalia to those who have food dehydrators.
Since February 24 they have already put together 33 thousand packages of soups that have been delivered through 'Crophub' to the soldiers fighting on the front line.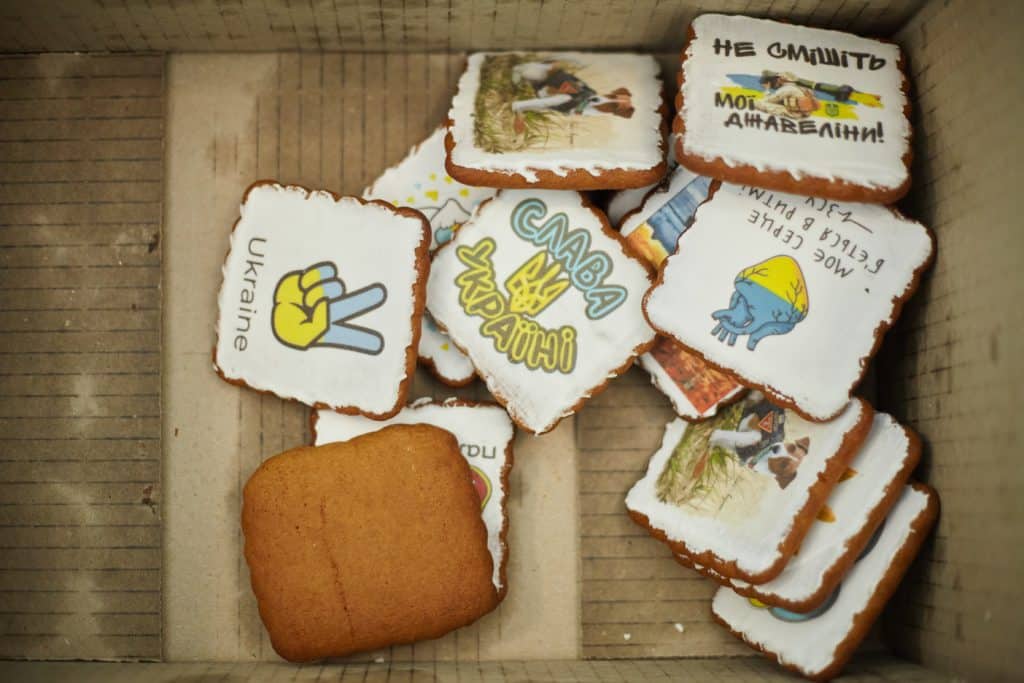 Territory of help
As of August this year, the Kirovohrad region has hosted 90 thousand displaced persons who have stayed in the region. 23 thousand of them live in Kropyvnytskyi (although the city of Kirovohrad was renamed in 2016 into 'Kropyvnytskyi', the region is still called 'the Kirovohrad oblast' – translator's note).
The first vacation train from the Donetsk region pulled into the city. The heating season is not to be expected in East Ukraine, so the government has promised to evacuate those willing to leave.
This means that the humanitarian center that the public organization 'Territory of Success' is taking care of, will face much more work.
On the day of the full-scale invasion 'Territory of Success' began relocating all important documents to a safe place, after which its volunteers set about ensuring the safety of their families.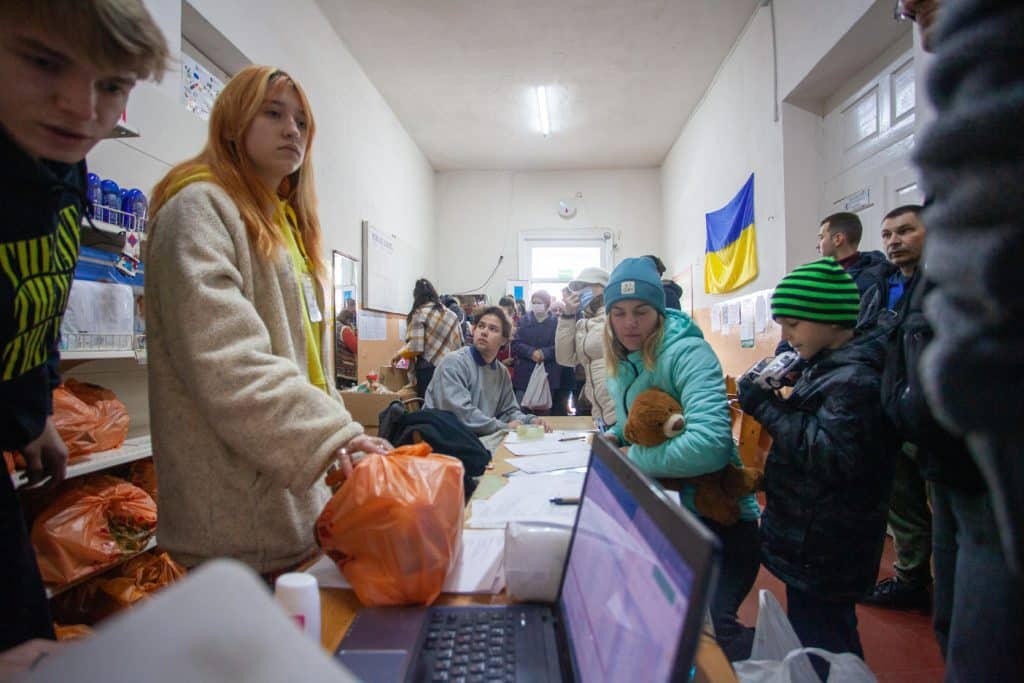 Head of the organization, Inha Dudnik, whose children are already grown-ups, began cooperating with 'Crophub' at once.
'On February 24 Olya and Taras (my elder daughter and her husband) offered to relocate me to West Ukraine. I told them ,You should go and I'll stay'. Staying at home and doing nothing is unthinkable to me, I just go mad. I need to do something I can and I thought about how exactly I could have been useful. The following day my daughter told me that she and her husband joined a territorial defense unit', Inha says.
At first she wove masking nets, sorting delivered aid into packages. She then helped accommodate forcibly displaced persons. She would sometimes get about 1,5 thousand calls a day.
At the beginning of March her younger daughter moved from Kryvyi Rih to Poland with her two sons.
'Upon her arrival in Poland she was astounded by strollers standing on a railway station for those who were in need of them. Polish volunteers met them and gave them clothing. I understood that lots of people were coming to our city experiencing just that', says Inha.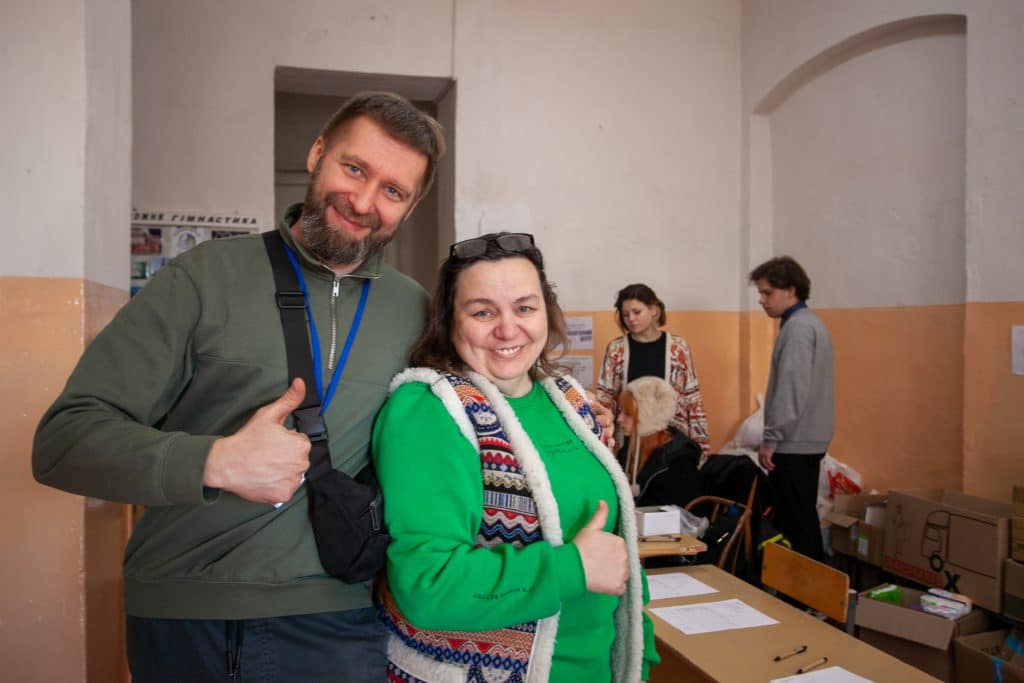 She decided to launch a humanitarian aid center for refugees since there has never been one in the city. It was a new experience for her and her colleagues since they had mainly been dealing with advocacy work and educational projects previously. She communicated this idea to the military administration, after which she was offered to work at a sport school that was temporarily not functioning
Given that after 14 years 'Territory of Success' had worked with lots of partners, donors themselves began contacting the organization to offer support. For the past 3 months the organization has received and spent three annual budgets responding to the needs of the newly arrived refugees.
'Our position was clearly outlined: should we have money we would spend it anyway to support local manufacturers. That means that with this support jobs in the region would be saved, people would receive their salaries and the economy would be working. We were even offered lower prices outside our region but we turned the proposals down', Inna says.
Since that time the organization has been relocated three times. When the sports school resumed its operations, the organization was relocated to another school. Ahead of a new school year a new relocation into a canteen of one of the city's universities (that has never been used before) is coming. In parallel, the organization keeps distributing aid.
The formula is quite simple – one package per month. There's also a special registration system in place.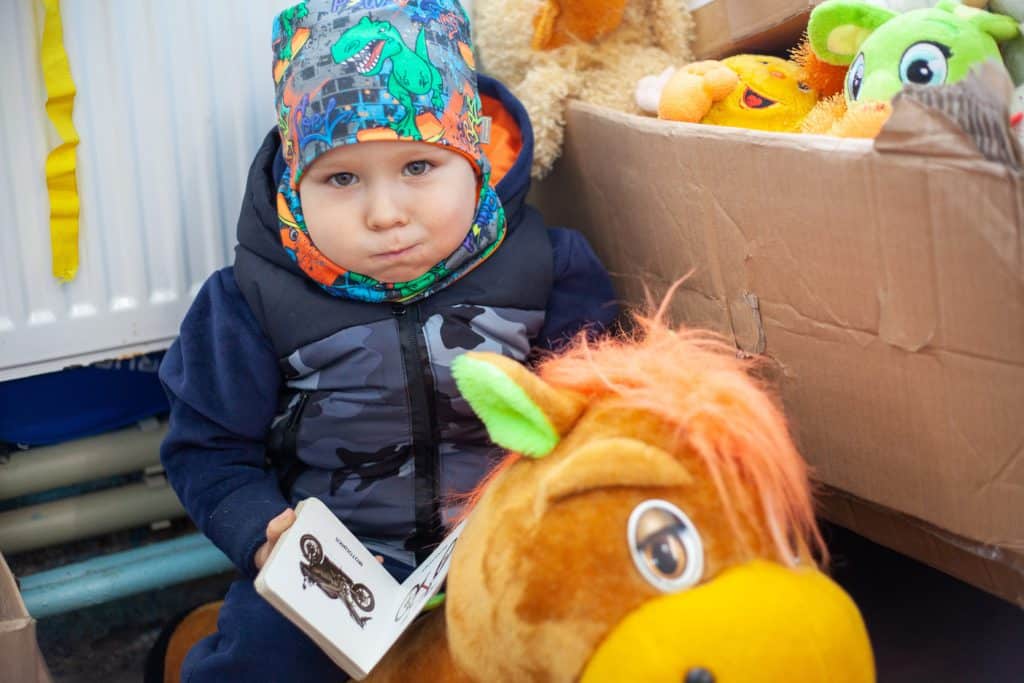 'Last spring, when we were receiving 200 people a day, we managed to serve them. However, when their number grew to 400, we began issuing registration coupons so that a line would be formed as we were unable to provide help for the majority of refugees. On April 19 we moved to another building and on that day when we were not working, which led to a line of 1000 people having been built up. We came to understand that we would not handle this, nor would we have been able to plan out the number of packages with aid. Giving people three potatoes after they had been lining up for five hours wasn't the way to go', says Inha.
We worked out a system like the one that Ukrainians are now using when arranging an appointment with a family doctor. Instead of a doctor they contact a consultation center.
We made QR codes that people are supposed to scan in order to fix an appointment. You can do that with your phone. We would have a volunteer working in the street and helping those who were not able to do that by themselves. 20% of appointments were reserved for those people who belonged to the category of the populations with low mobility.
The number of requests is way greater. We are contacted by not only refugees who have come here in the last few months, but also by all vulnerable groups of people.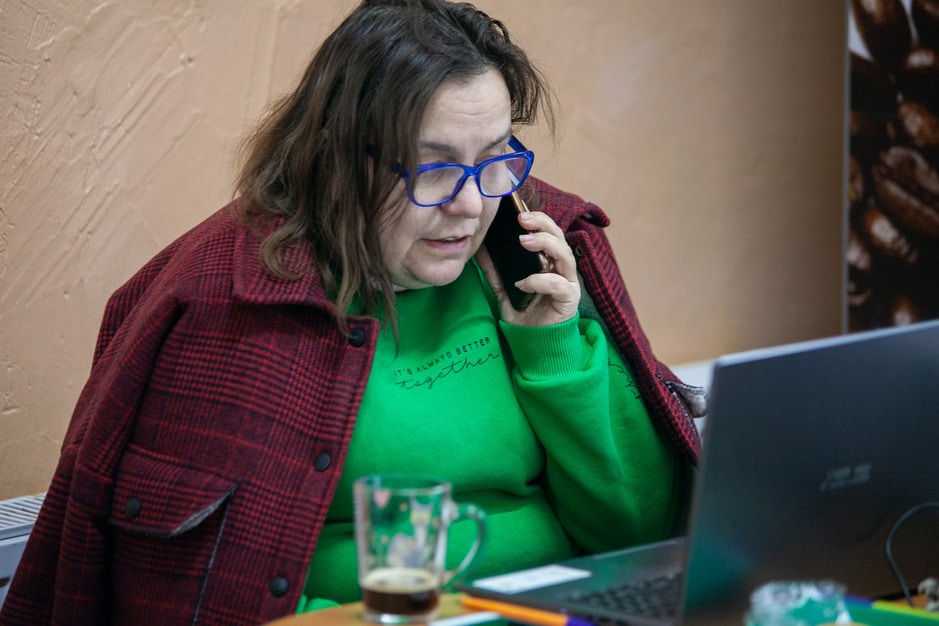 Today, products from a humanitarian mission are being distributed.
On August 15 the humanitarian center resumed its work in a new place. The first day after a break proved quite difficult. A big crowd would flock to the center before lunch. It also came to misunderstandings between people in terms of registration coupons. After the volunteers' working day was over (at 3 pm), people would still come to the center asking for help. Somebody was dissatisfied with the registration system, and some would ask us to explain how the channel on Telegram was working where information about the registration was shared.
'Apart from the registration system, there also has to be a system of values', says Inha.
It is thanks to this system of values and coordinated work that the center has been working for the past six weeks without the supervision of its head, whom they supported in a difficult moment of her life after Inha's daughter and son-in-law were killed in East Ukraine.
Despite her grief Inha is back again doing everything she can. She will carry on helping people until victory.
Guide to Kropyvnytskyi. Things to see and places to grab a bite at
Food
Kropyvnytskyi's Restaurant
Teatralna street, 29
The place is located in the dead center of the city, offering more than Ukrainian and European cuisine. Its menu changes according to the season, with original dishes being always on offer.
Just like any other restaurant of the local chain, this one has joined the initiative of cooking lunches for fighters of the territorial defense unit. The restaurant also offers its clients to buy a charitable sticker. The proceeds are passed on to the volunteers.
Gogol Espresso Bar
Gogol street, 91/46
The bar landed on the Ukrainian Coffee Guide 2021. Apart from coffee you can also enjoy delectable desserts here. The bar has participated in covering numerous needs of the humanitarian center on many occasions.
DVA Coffee
Teatralna street, 38
Nice coffee, cozy summer terrace with fountains and a hammock. The coffee shop has been supporting volunteer initiatives since 2014. Since February its team has been helping to meet the needs of the humanitarian center by providing ammunition for one of its members who is currently defending Ukraine.
KEX bar
Teatralna street, 31
Another place from the Coffee Guide list. Coffee is being roasted by baristas themselves. Your coffee can also be brewed differently. You will also be happy about the choice in desserts.
As of now, the bar is collecting Hryvnia coins within the framework of the initiative launched by the National Bank of Ukraine 'Brave Hryvnia'.
Vanilla
Patsayev street, 11b
Naberezhna street, 11
A coffee shop where you can drink coffee as early as 7:30 am. The shop has been supporting charitable initiatives since the first day of its existence. From February 24 one Hryvnia from each sold cup of coffee is donated to the Armed Forces of Ukraine. Other volunteer initiatives hold their events in the shop as well.
ChaCha
Habdrakhmanova street, 35a
A Georgian cuisine restaurant, ideal for a couple or a big company. The restaurant has been cooking breakfast, lunch and dinner for Ukrainian soldiers. They also donate money to volunteers.
Things to watch in Kropyvnytskyi
Teatralna street
This is perhaps the only street in the city with old buildings having been preserved. This is the best place to take strolls in the evenings. There are plenty of cafes all the way from the Heroes of Maidan square to the city theater. There is a cute monument to a street cleaner and to the first tram in the city, the things that no longer exist in Kropyvnytskyi.
Aviation Glory alley
Stepana Chobanu street, 10 b
An outdoor exhibition space close to the Flight Training Academy where real planes are put on display, such as An-24, Yak-40, Il-28 and Mig-21.
An ethnic laboratory 'Baba Yelka'
Teatralna street, 12
This is a special museum where you can see things and objects of yore and learn about the history of the region. Tours are done by girls who are enamored with the rural life of their ancestors. You can also take pictures while wearing traditional attire, buy a book about local cuisine and souvenir magnets.
Dendropark
Yevhen Telnov street, 28
A theme park is in the center of the city. The high season is normally in May when thousands of tulips are in blossom. Here you can also visit the amusement park or your kids may have fun in the dry fountains.
City garden
Sadova street
Here or you can take a stroll, listen to birds singing and frogs croaking. You can also rent a kick scooter or play basketball or volleyball in a sports ground.
Inhul waterfront
You will not only be amazed by the river, but will also have the opportunity to take pictures of some graffiti painted on the exterior walls of buildings by local activists. You will also be able to meet and feed wild ducks.
Local history museum
Teatralna street, 40
Visit this place to learn more about the region and enjoy the ancient building on whose premises the museum is situated.