Meet the Ukrainian designers who promote world fashion. 
The fashion industry is beautiful, expensive and … harmful. In 2012 Natural Science published a report which said that the fabric industry is the second biggest water pollutant in the world after the agricultural sector. With the passing of time journalists started finding out that the fashion industry is equally as harmful to the environment as its oil counterpart.
Although The New York Times called this news as 'the biggest fake of its time', the fashion industry leaves quite a significant imprint on the environment at least through the amount of unused fabrics and remnants of collections.
This is why nowadays designers take guidance from sustainable fashion, or the conscious, ecological fashion. It rests on three principles:
— reducing (careful application of resources);
— recycling (converting fabrics or clothing items into new materials and objects);
— upcycling (reuse of ready-made clothing items).
We talked about eco-consciousness with Ukrainian brands and a costume director who use vintage clothing or remnants of fabrics to produce new clothes.
Sofia Rusynovych from ROUSSIN
Back at university I could not afford to buy designer clothes even when they were being sold at a 70%-discount. When I did manage to buy a designer garment, I would wear it very carefully as something unique and expensive.
Every designer thinks of themselves as artists. Nobody wants to sew mass-market clothes. A designer wants to create something special; they want their clothes to become a piece of art. They want people who buy their brand to feel just as I did back in my university times. I want the clothes that I have designed to be passed down through generations; I want people to tell stories about it.
That is the approach that is at the heart of the ROUSSIN brand. One is not supposed to own many garments. However, they have to be of a very high quality and durable. This approach means being eco-conscious. A person may get along well with only a few pieces of clothing. However, if they are objects of art, they will never be out of vogue for generations on end.    
Our team does not produce many garments. We design at most five garments of one type. That is why we produce little waste materials. Nevertheless, the amount of these materials is enough to create new things. I remember recycling three pairs of unsold jeans whose material was used as backing cloth for bucket hats and as tops for a new collection. If the customer does not develop a liking for a certain garment, I don't see any point in keeping it on the shelf. It may be used for creating something new.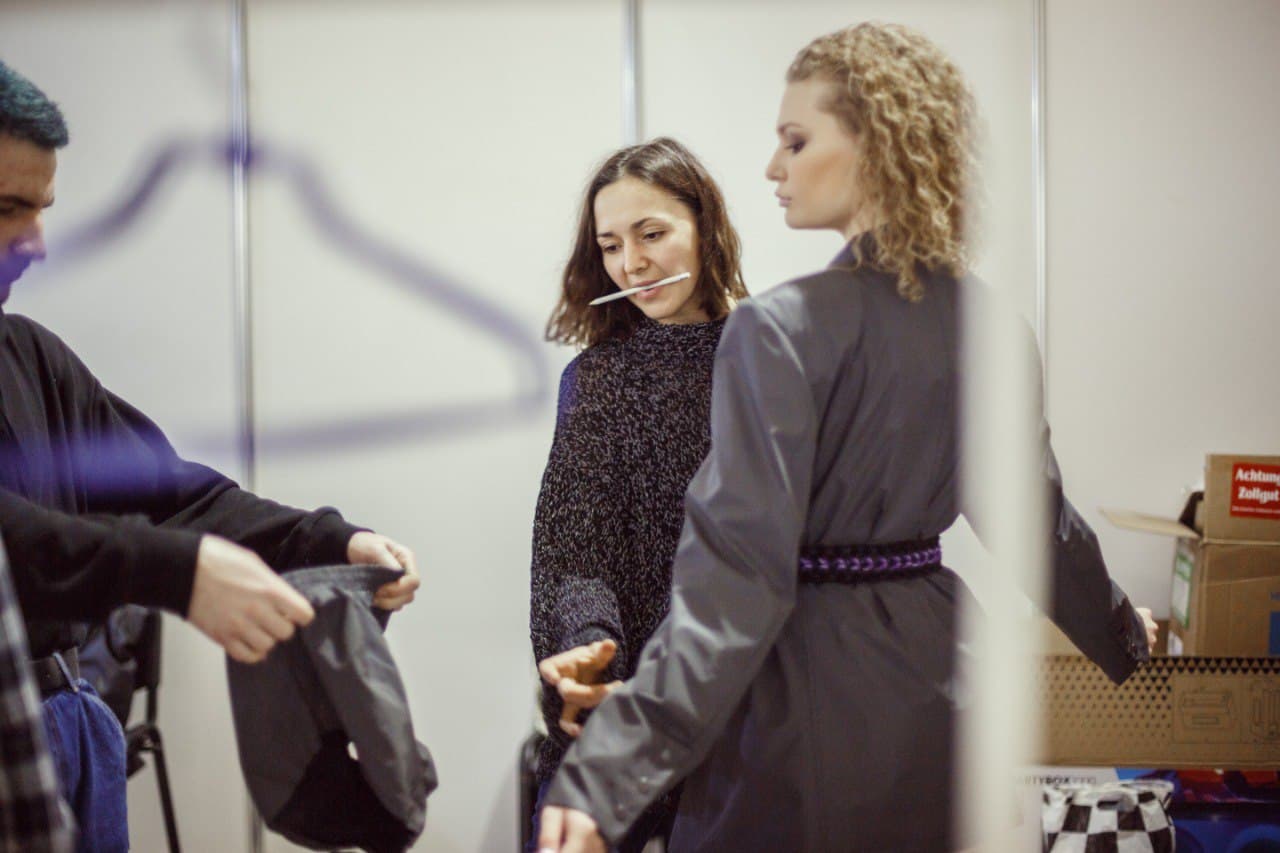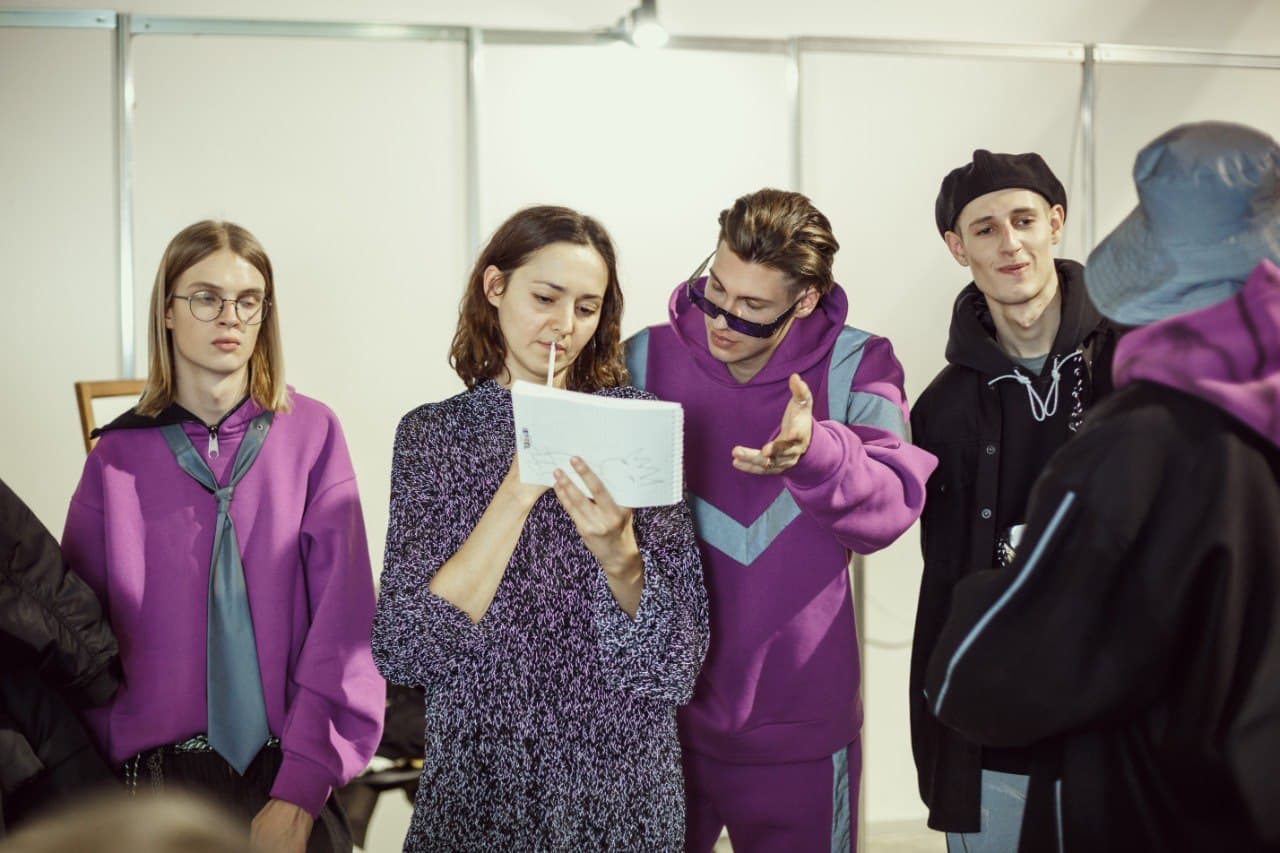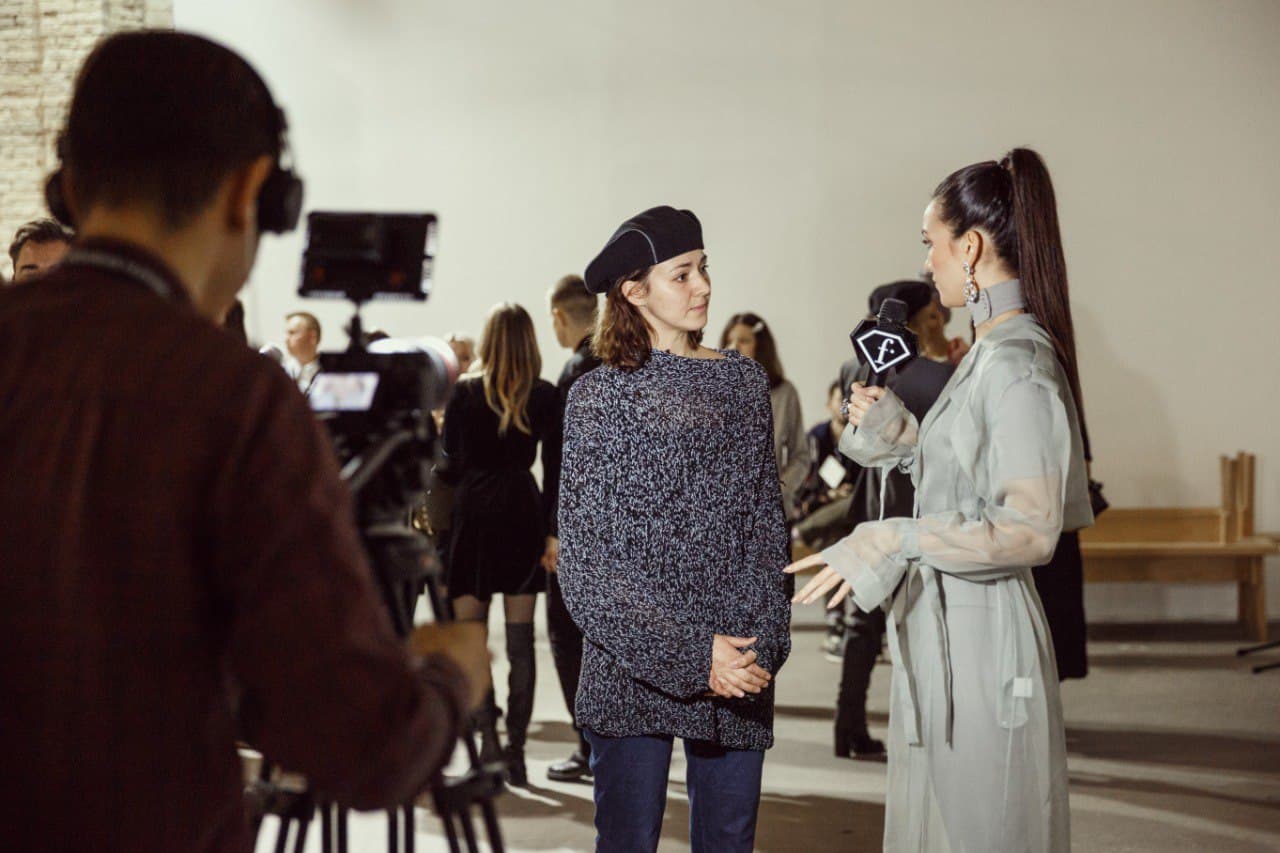 In my collections I also use new fabrics, since no waste materials will be produced without them. Also, lots of bolts are defective. This is especially visible on white fabric. In this case, we sew visual elements into these defective parts.
We also use visual elements when our clients have worn out a certain garment produced by our brand. With the help of an airbrush I breathe life back into scuff marks and patches that were worn out in the sun and so the customer can keep wearing that garment.
We used to present our brand in shops. However, the sales were quite sluggish and we were left with packs of unsold items. I would often put visual elements on them and create new embroidered patches. We have now abandoned the idea of using services of dealers and have switched to selling our products directly on the website, which means we do not sew anything in excess.
I also remember experimenting with plastics. My team and I gathered bags of waste materials and made banana bags and backpacks out of them. People liked the idea but they were reluctant to buy these items. As a result, we've got a warehouse full of them. In view of the fact that it takes 400-500 years for plastics to decay, we will sell them sooner or later (chuckles). 
Where the recyclables come from
I am an empathic person. At some point I made a resolution to gather up all the plastics that I had on my balcony. After two months of unintentional storing of plastic things there, I literally couldn't enter the balcony any longer as there were loads of them. It was horrifying to realize just to what extent we pollute the environment.
My attitude to fabrics is a different story. A love of patches was passed down to me from my mom and my grandma. They also like sewing. As a child I never used to dispose of waste materials after sewing. I had the idea that I would put them to use at some point in the future, which turned out to be true. 
You can sew anything you want from patches. When I think back to it, there were so many of them that I was running out of ideas of how I could use them. Now I have very little waste materials and I am forced to search for them. Recently I have found a place that has lots of waste materials. I have even offered to cooperate. However, they grew oblivious to my offer and disposed of them altogether.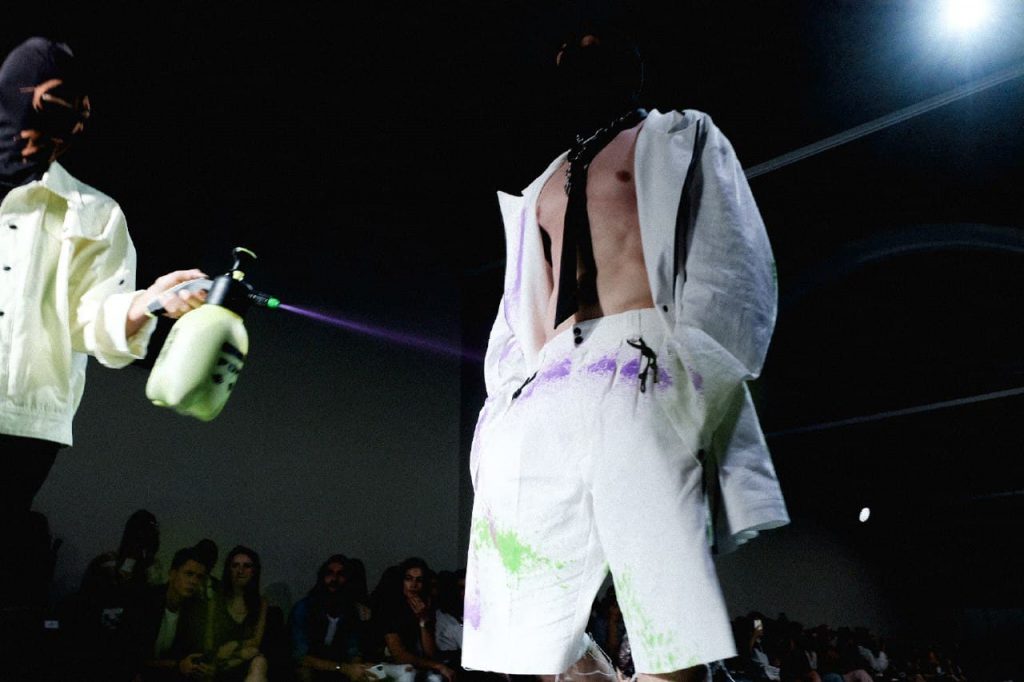 About whether Ukrainians buy eco-friendly clothes
When you like something, you don't pause to think about what it is made from. For example, we produce items made out of pieces of fabrics and we add some reflective elements onto them. A ROUSSIN collection has such hoodies which are quite popular among customers.
Pieces of threefold cord (s special fabric used for production of hoodies) come in various hues. If you combine these elements based on the principle 'the torso part of one hue and the hood of another', customers will think it defective. However, if you produce things made out of multitudes of different patches and add a bit of creativity to it, customers will buy it as a manifestation of brand. They consider it a designer's special touch.
However, things may look different. Before, we tried to make some clothing items out of shopping bags. They do not make good clothing material. Despite this, banana bags were simply wonderful. When we told our clients that a particular item was made out of waste materials, they found it difficult to buy it.
Lately we have not been encountering any negative feedback on recycled items. However, a mere two years back the situation was startlingly different. I remember the excitement with which the guests of one of the 'Vsi svoyi' exhibitions (a clothes shop popular especially among young people – editor's note) reacted to woven handbags made out of shopping bags. However, as soon as they learned about the material from which they were made, they left the shop in disgust. It may be explained by too wide a public visiting such markets. This public is simply not ours. 
A similar reaction may be provoked by not only eco-friendly clothes. I recall one of our clients refusing to buy a bag with reflective threads on it because he did not understand what purpose those threads were serving. He bought a bag with classic black threads instead. However, reflective items help people remain visible at nighttime (which means extra safety – editor's note).
Not always are we ready for new things. People in Ukraine are afraid of everything which may be 'different'.
About the future of the fashion industry
I am not saying that my products are made out of waste. I always say that it used to be garbage before it became a clothing item. Waste materials are practically an inexhaustible resource. One can produce anything out of them. I simply fail to understand why so few people in Ukraine do this.
Anyway, I still do believe that the fashion industry will get more eco-friendly and designers will switch to conscientious production. If you think about it, six months ago you couldn't buy recycled fabrics in Ukraine. As of today you may find whipcord made out of recycled polyester with its quality still being questionable, though. I mean this whipcord is thin and it is highly likely that clothes will tear to tatters quite soon. However, I do believe that it will get better with time. We will be getting recycled fabrics that will by no means be inferior to the new ones.
The question of how complex the recycling process will be remains open. For instance, how shall we recycle cotton? It is sewn together with polyester threads. I guess cotton will have to be placed in some kind of a big tub so that polyester dissolves and a new fabric can be sewn from it instead.
I believe in scientists. I am sure we will soon have materials that will be easily recycled and comfortably worn. In this lies the future of the fashion industry.
At the end of 2018 I was approaching the end of my training as a stylist and I was about to undertake an internship. I was working at the filming and they needed some unconventional clothing which was quite hard to find. 
On the other hand, I adored original and non-standard things myself. For example, a craze for oversize clothes and its absence in shops led me to think of visiting second hand shops where I had come across men's giant suits for the first time. First, I brought them to the shooting just as they were, and then eventually I decided to adjust them to my size. The effect was stunning – everyone asked me about where they could get such a suit. That's how my brand came into existence. The brand passed its first test at the Kyivness market.
My original goal was not about creating an eco-friendly brand. I came to realize the need of it with the passing of time, which I framed into the concept of Oversized Studio.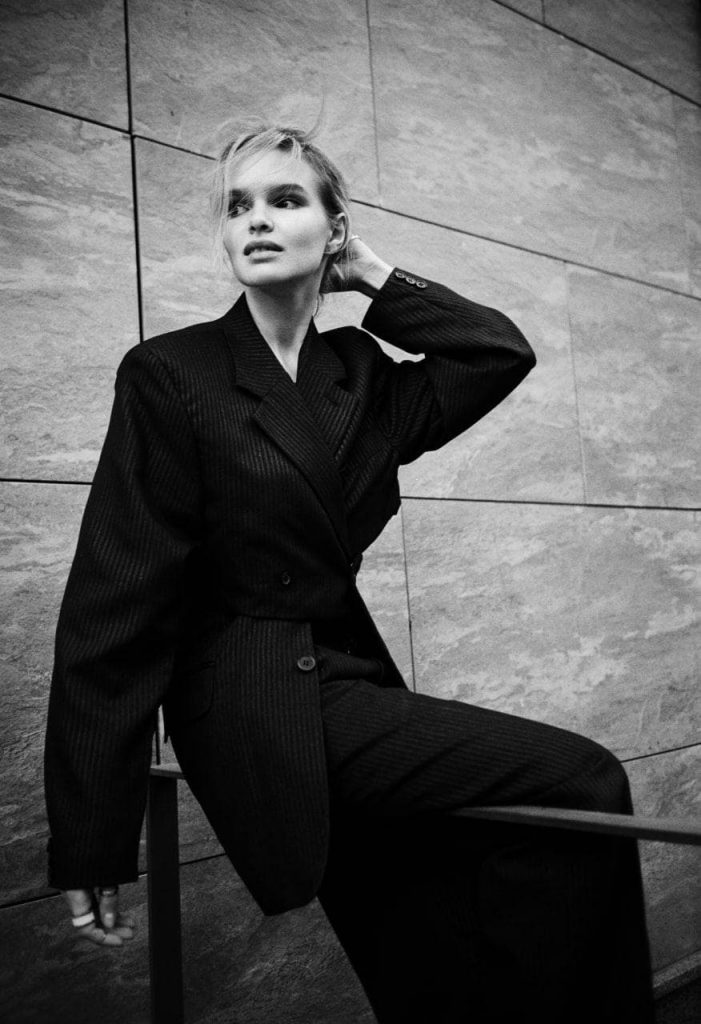 I decided to design one-off clothing items in my two favorite styles – oversize and masculinity. Plus, it had to be eco-friendly. I came to really like eco-friendly stuff in the process of creating my brand. Now I sort my waste and my attitude to it has turned on a dime. It was not that difficult to switch to upcycling, since I am fully conversant with building a brand in a more classic way. To get eco-friendly is a minor complication that leads up to the main task.
We search for materials for our clothes worldwide. Our two main sources are secondhand shops and resale platforms. With the arrival of the vogue for conscious consumption and eco-friendly brands there has been a lack of high quality materials. However, we have established reliable supply chains which always help us find 'the very jacket' we are looking for. Our main search criterion is excellent quality which is hardly to be had in new clothes.
In Ukraine the phenomenon of recycling has become more common now than it was back in 2018. We are definitely one of the first brands to have adopted this approach, which I am quite delighted at. We set the tone for the consumption of recycled things. The advantage of recycling lies in its ability to be different, unique and original. Right now the world lacks it so bad. In Ukraine, however, you can always find something extraordinarily unusual and you will get noticed wearing it.
However, nobody is supposed to forbid you to create and realize ideas even if this is not done in a conscious manner. Creativity is also an important aspect. Without it fashion turns into commerce.
Of course, I am happy when someone cares not only about an idea. However, I don't approve of condemnation.
I have been doing recycling since I was in the ninth grade. Not knowing how to sew, I was making backpacks out of recycled denim with leather. I was receiving my first commissions and it was then that I came to realize what I wanted to do in life.
At high school I was recycling lots of different materials – cotton shirts, yarn garments (secondhand sweaters), denim, leather, and much more. Also, I was commissioned to make clothes from new materials. I was horrified at the amount of waste materials left during my work. You can imagine the scale of the problem at factories…At that point I paused to think about our planet's future which is already badly polluted.
I decided that it made sense to work on mitigating the negative impact of fashion design on the environment. That was how my brand came into being.
I buy secondhand jeans giving them a second (and a more interesting) wind.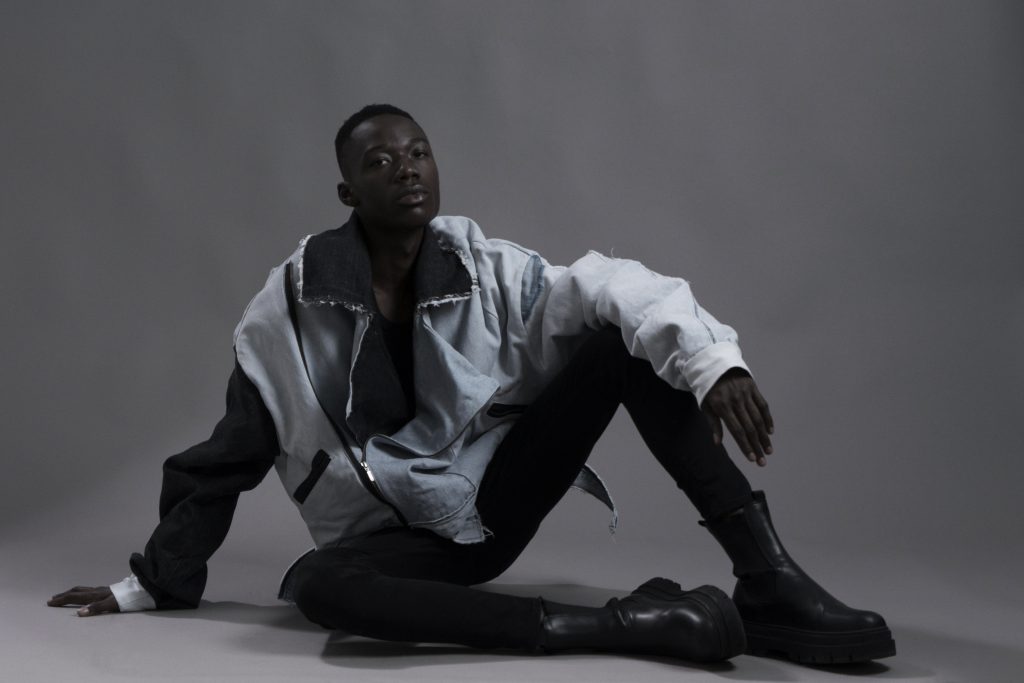 I cut and reshape them into absolutely new items. I wash them at high temperatures, sometimes bleaching them, making holes and scuff marks, etc. Moreover, customers let me recycle the clothes they no longer need and we design a cool new item for them. 
To sew clothes from used clothing is much more difficult and expensive than from brand new fabrics. Every new item is unique in terms of its material and it can never have another copy. Every item requires special attention, individual approach and special production technologies which I came up with myself and which I use to sew clothing of my brand. This, however, does not frighten me away. On the contrary, it inspires me. I think of it as a certain challenge for an artist. 
About alternative fashion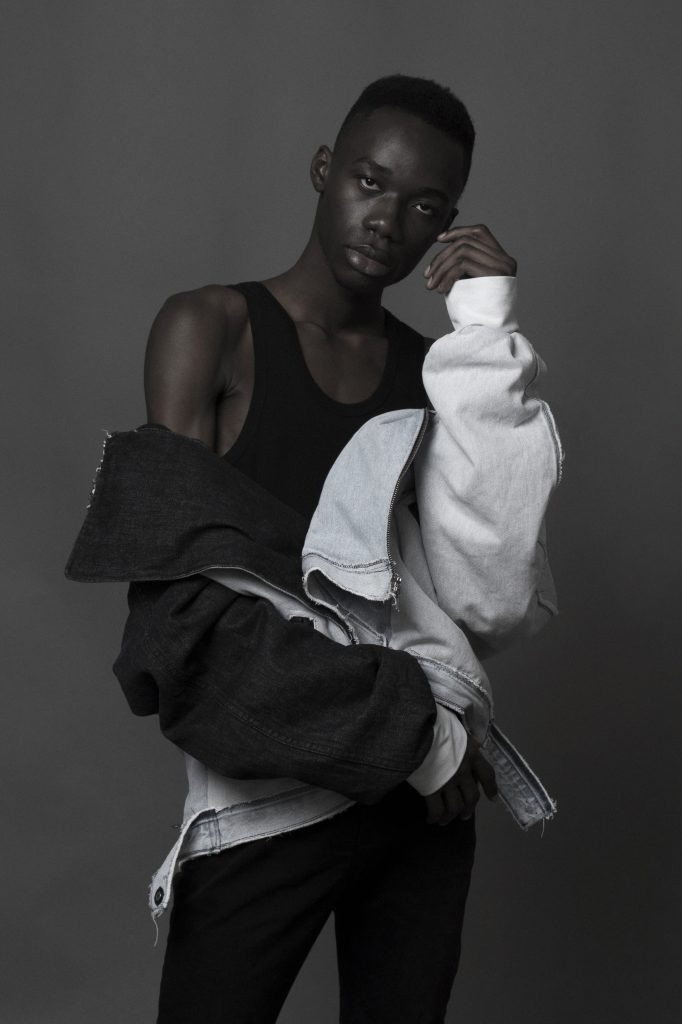 There are lots of brands and big manufacturing plants in the world that produce clothing in a classic way. This leads to superfluous amounts of cast-off clothing polluting the environment. An innumerable amount of natural resources (which are becoming ever scarcer) is spent on producing fabrics only. There is an urgent need for alternative brands and opportunities for recycling different waste materials, secondhand materials and rubbish into new things. Otherwise we will all find ourselves in the context of a major ecological calamity. We will have other things than fashion to worry about. This will be especially true of the generations of our children and grandchildren. If we do love them (even if they are not born yet), we have to take care of their future in advance.
In Ukraine eco-friendly fashion has not yet reached the level of development common in other European countries. However, it is gathering pace now. I can't say that each brand should work towards this goal. Nevertheless, I can say that producers of any stuff have to think about how their product will impact its consumers and the environment. It will be cool if such an approach will turn into a sort of competition which will lead to customers losing interest in buying products offered by those producers whose activities cause pollution.
It is completely impossible to have your entire wardrobe produced out of recycled stuff. Nor is it by any means possible to make everyone consume only these goods. However, one can inspire consumers to opt for a more conscientious style of consumption. By saying this I mean garments made out of recycled materials, fewer purchases and using tailoring repair services. It is better to choose things of a higher quality made from natural materials dyed with non-hazardous dye. One of the options of the fashion industry's development is to see in it an opportunity to instill in consumers values and the notion of the need to adopt a different attitude to consumption. I have not only clothing in mind, but also a different approach to life in general.
Lesya Patoka
Costume designer
We played the topic of upcycling and recycling off while making the clip for ONUKA's (a popular Ukrainian electro-folk band – editor's note) song 'Zenit'. This clip won the Around International Film Festival Barcelona 2021 award in the category of 'Best European clip'.

All the outfits used in the clip as well as Nata Zhyzhchenko's (the band's lead singer – editor's note) image were made out of the recyclables. This conceptual decision made it possible to tell a wider audience about our eco-conscious approach. At the same time it posed a challenge to our team, since we had to find the necessary materials to quickly sew the outfits under really tight deadlines.
Four of my colleagues and I spent two days rummaging through secondhand shops to find stuff we needed for the clip. We ended up buying two full shopping carts. I remember us calling a cab to have 12 bags of clothes transported.
Among the images that we came up for the clip were the ones that had to be made only of pebble leather. All of the jackets were made of it. In the clip we also had an African-Ukrainian character wearing a fur coat with tassels. We made it out of raglans, sweatshirts and other knitted garments. We made skirts and other items out of curtains. Our tailoresses had blisters on their hands after cutting them. It would certainly have been easier to buy ready-made fabrics, which, first, would have cost us an arm and a leg. Second, the whole world is already full of stuff.
As time progressed we released a new clip called 'SEANS' (the Ukrainian for 'session' or 'screening time' – editor's note), for which we designed vintage clothing. The story about this clip is somewhat different. For ZENIT we refashioned cast-offs into new garments, whereas for SEANS we adjusted the clothing only to Nata. We drew aesthetical inspiration from the times of the Soviet Union and the German Democratic Republic. The clip featured a specific range of colors, in particular, dark shades. Maneken (sound producer and Nata's husband – editor's note) made a provision of the costumes' colors matching with the location of the shooting. I couldn't find necessary fabrics in shops. I needed unique items that could only be found in secondhand shops or flea markets. Some of the garments were over 50-60 years old, I guess. We worked on giant men's suits, changing the shape of their vintage collars. In the end we had designed something cosmic which looked like a one-of-a-kind thing. It was a top class performance on our part – we created a harmonic combination of vintage clothing so that it looked stylish.
These clips are meant to show that you don't have to have a large budget or spend millions on fabrics in order to create something exquisite.  In secondhand shops you can find unique clothing which cannot be bought in regular mass-markets. You can look stunning regardless of times or trends while adorning your image with such garments.
About the unique character of vintage clothing
In my work I also use new fabrics. It all depends on the tasks I am faced with. If I need to sew a concert costume, we use new materials. They are not to crumple and they have to be sweatproof. There are certain requirements that vintage clothing can't meet.
The situation is different when it comes to shooting clips or holding photo sessions. Images for these events are often used more than once. There's no point in wasting an inordinate amount of money while polluting the environment.
Older people tend to still share the stereotype about secondhand shops. They think that people who buy stuff there are not well-off. Abroad, however, most people do their shopping in these very shops. I adore vintage stuff markets in Berlin or Budapest. By the way, a garment on sale there may cost no less than 50 Euros.
Can you really say of a young guy with a MacBook or an iPhone in his hands that he is poor? But at the same time, this very guy buys stuff in secondhand shops, which certainly proves their exclusiveness. I would love to believe that the vast majority of Ukrainian youths are eco-conscious. However, more often than not they are into being unique, and this is a feature they can find in vintage clothing but not in shops.
I often shop in secondhand shops at Akademmistechko (a neighborhood in Kyiv – editor's note) myself. Once I found a Max Mara and a Miu Miu jacket there for a mere hundred Hryvnias (a bit less than 4 dollars – editor's note). On sale there were also garments of my favorite Dutch brand Scotch & Soda. In a secondhand shop I may often find some garments for celebrities which they have been looking for a long time. I regularly come across guys lurking and waiting there for a new delivery of clothing to buy something cool and then to resell it. It's a separate business culture which demands relevant knowledge and skills.
I take interest in working in the field of upcycling, which is enormously difficult as you may not find something you need. It is much easier to go to a shop and buy ready-made stuff. However, I do relish knowing that my brand can set an example which will help articulate my approach to others.
'To design cool stuff, one doesn't necessarily need to make it from new materials'.