Here's our new article about a new clothing brand that places extreme value on the freedom of self-expression, choice and the freedom to be yourself.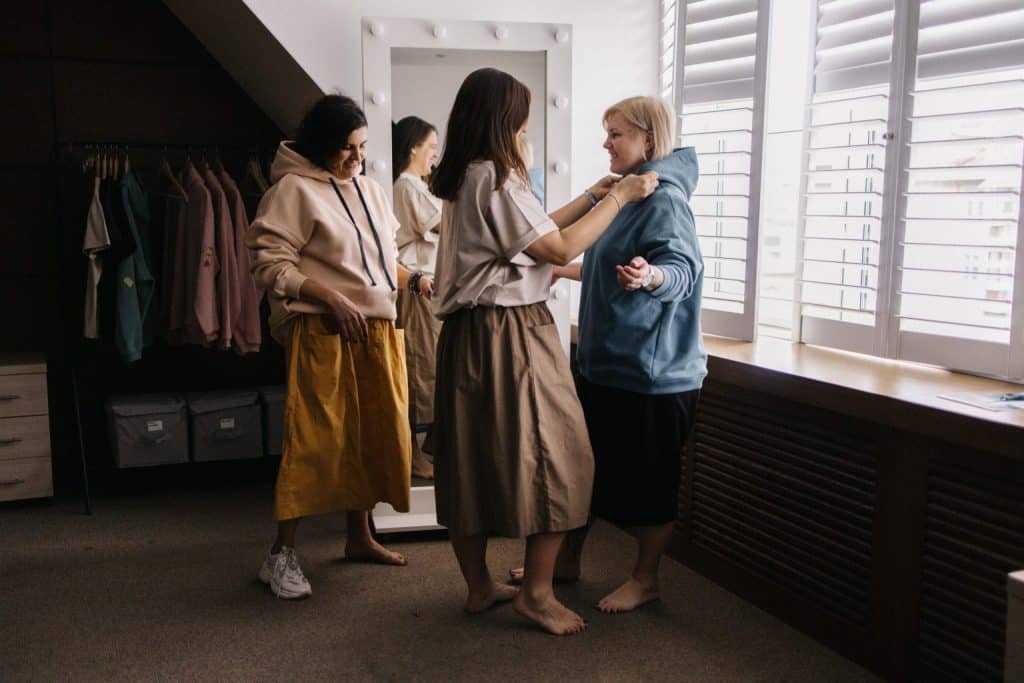 This story began with a compliment. A friend of mine came to work wearing a navy blue sweatshirt. I told her it was beautiful, to which she said, 'Oh, it has been made by freaks!'. Having seen my perplexed face, she said, 'That's the name of a brand. I think you should learn more about them'. 
The FREEki office was illuminated by fairy lights and calm music was playing. The FREEki team is now comprised of Yulia Bolbochan, Viktoriya Yukon and Ruslana Tsehelska as well as four interns with developmental disorders.
Yulia is responsible for the processes of designing new clothes, Viktoriya is in charge of business processes and Ruslana does SMM. However, after only a few hours in the company of this fantastic team one may see the real enthusiasm and involvement of every member in quite different tasks. When answering questions, they even complement one another.
About the team
We now have four young people who come to work as interns three times a week', says Ruslana. 'Today two of them are present: Nikifor and Pavlo.
Nikifor is attentively sewing labels onto garments. He is doing that in an unhurried and very diligent manner, adjusting ribbons so that they are of ideal length and packing the garments up. Before placing them on a pile, he literally dusts them off.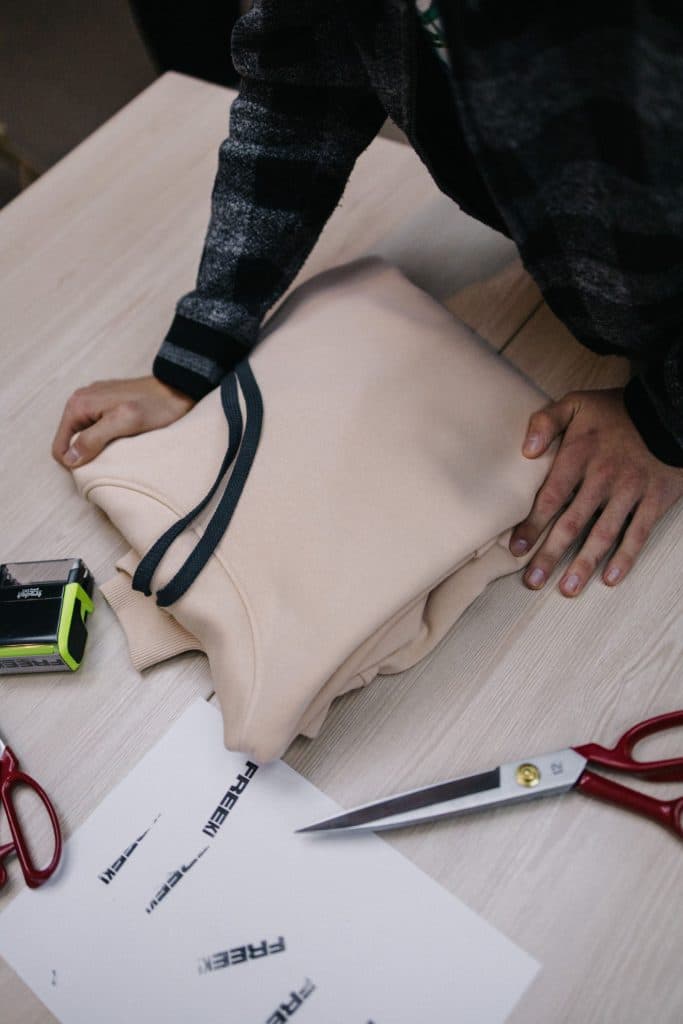 'Nikifor is non-verbal', explains Vika. 'I mean he can't converse with the help of words. I communicate with him in gesture language. But he is flawless at copying any actions, repeating them with great precision. Nikifor also signs postcards that we attach to every order.' 
Pavlo is sitting in front of the computer, typing texts written on sheets of paper. He is focused and does not get distracted by anything going on around him. Viktoriya asks him to tell me what exactly he is doing. 
'I am typing a text on the laptop. The text is about fabric. I do that in order to learn more about fabrics.'
'In other words, you are honing your typing skills while at the same time learning something new, right?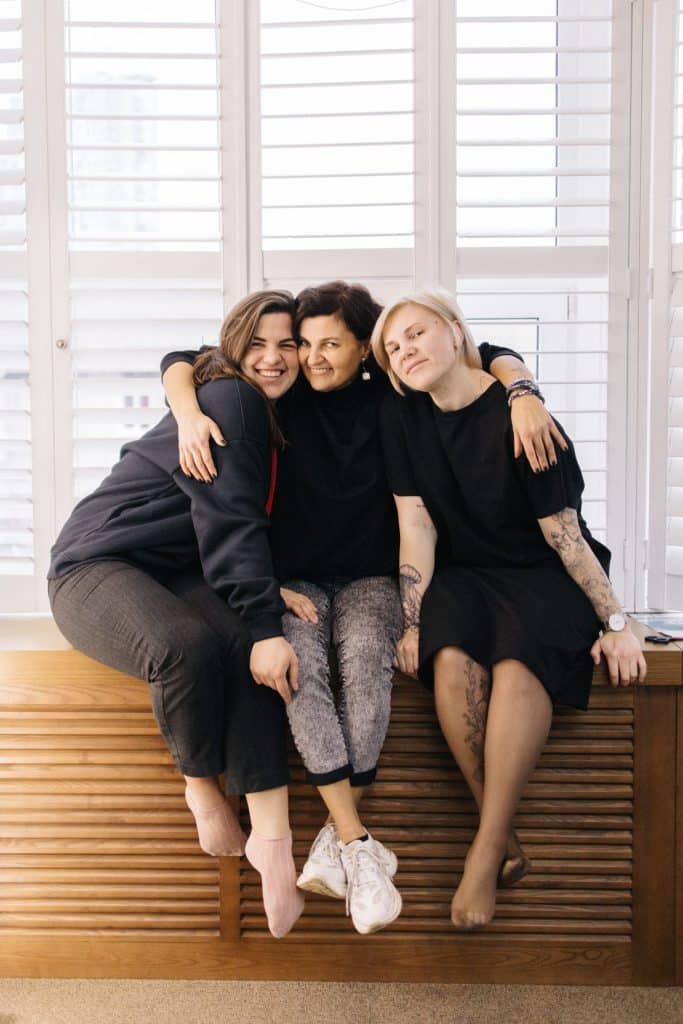 'Correct', answers Pavlo in a serious voice, making it clear that he is not in the mood of carrying on our conversation. He wants to get back to work. 
Ruslana keeps telling the story. 'We also have an intern named Oleksandra. She takes interest in different processes of clothing production. We have now developed new hoodies based on her sketches and we are going to present some other new garments in our collection!' 
There is also Yaroslav. He has muscle-skeleton disorder and problems with fine motor skills. It is quite challenging for him to sew labels, pack or pile up garments. However, he is quite communicative and polite, so we are working on his strong suits and we are helping him to master new skills of communication with clients. The majority of activities are the same for all of the interns, since we need time to see who has a knack for what. They work from 10 am to 4 pm. We start our day by discussing plans and setting new goals.'
About prospects
When we speak of 'interns' we imply that with time these people will be employed. For this we need to understand that a person is able to complete a specific task in a quality manner and that they derive pleasure from this process. We strive for a happy smile, both on the faces of our interns and our clients. We launched our business on December 13, so right now we are still going through the 'acquaintance' stage. 
'Let me show you something!', all of a sudden Viktoriya says and walks me to a … wardrobe. It turns out that behind the doors there is a small room: on the shelves there are stacks of packed clothing items and nearby two transparent bags with pieces of fabrics. 
'We love the world', says Viktoriya, 'so we are all for eco-friendliness. We do not throw the fag ends away. From small pieces of the remaining fabrics we produce stripes for labels, and from the big ones we make a sheeting and then sew the pieces together. New garments will be made out of the remnants of different sizes and colors. We want to turn our plan into reality by next summer. I think our interns will have been participating in these processes independently by then.'  
'We are friends with the Creative Workshop 'TAK' (the Ukrainian for 'yes' – editor's note)', says Vika. 'It is one of the projects of the public organization Bachyty Sertsem (the Ukrainian for 'seeing with heart' – editor's note). Both Julia and I were managers of the project, developing one of its directions – manufacture. Currently we are in a way maintaining the tradition. However, we have shifted the focus because the specialized workshops with interns who have developmental disorders offer an opportunity for the development of communicative skills and social engagement of people. We are working on the development of concrete skills and tasks for a further employment in our company, which will help a person with developmental disorder to be more independent and self-confident. 
In my view our society is not that much ready to interact with people who have developmental disorders. I'm talking not only about the accessibility of spaces. It is rather about the fact that people are not ready to cooperate yet, to employ people with disabilities. They assume that by doing this they will encounter problems which they will not be capable of solving.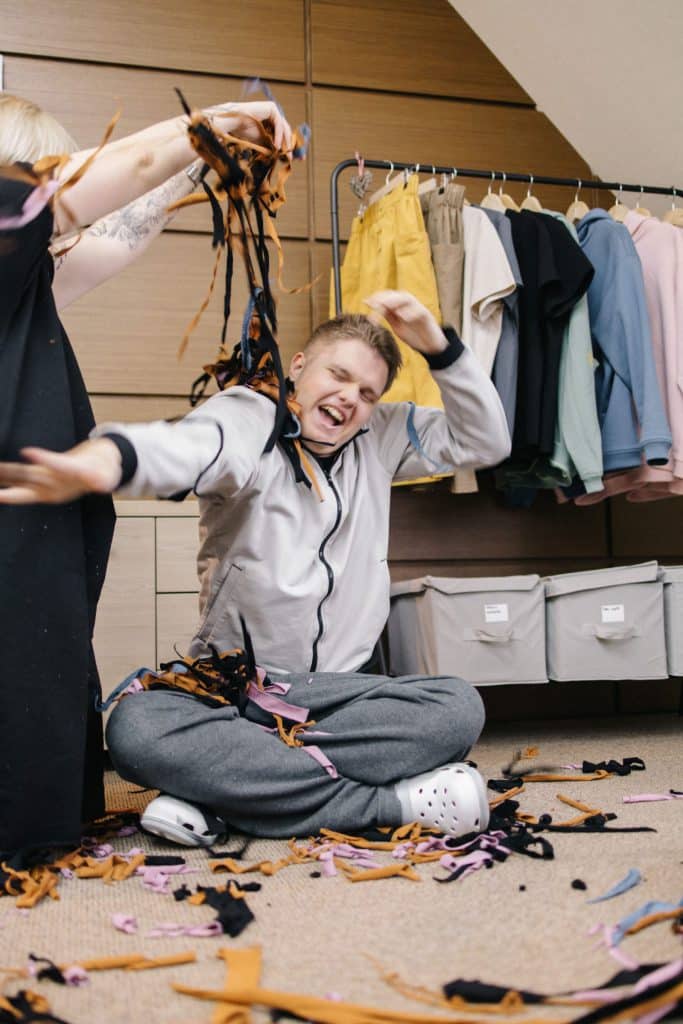 Drawing on our example, we would like to show that youths are able and love to acquire new skills, that they are comfortable to work with. Sure, we need to give them more of our time and energy to teach them, but this is all normal.
We will hire those who will be successful in their internship, I mean those who will understand that this is not some kind of entertainment or pastime, that it means real work, with discipline and income involved.
'If someone decides to advance their skills, we will be happy to help them!', adds Ruslana. 'Since here the interns are working for their CV, by acquiring communication and cooperation skills'.
Yulia nods approvingly along.
'One has to understand that it is important to accompany people with complex developmental disorders during many stages of their lives, including that of employment. To achieve this at an organization or company that employs people with disabilities, there is a need to conduct training with not only the head of a company but also with its staff. One has to show and to tell them how they can interact with different people. 
About flexibility
It is important to understand that this is a project with a social component, and we all are part of a team.
When we were just conceiving this project, we were thinking of launching it in the summer. However, this did not come to pass and we put the launch off until fall. August and September were gone and we still had not launched the project as we would have liked it. We then decided to move forward at our own pace, which transpired to be the best option. During this time we got new members on the team and we acquired a better understanding of processes.
We are now facing lots of new challenges. However, this brings us joy, not panic. I reckon that this has to do with the fact that the FREEki project is about love. We have plenty of the unknown ahead of us, but the thought of it makes us dig deep and figure everything out. This is normal. We totally support the person's right to make mistakes and to not know certain things. We are not experienced in the fashion business. Nevertheless, we are experts in working with our interns.
'It is important to understand that this is a commercial project with a social component, and we all are part of a team', adds Vika.
'We place much value on us talking about things in a frank manner, without concealing a thing'.
'We don't want people, who learn about youths with developmental disorders working with us, to say 'Wow!'. We want them to think of it as something quite common.'