The inclusive bakery Good Bread, which socializes people with mental disabilities, has installed an inclusive bench in Natalka park in Kyiv. The bench design provides a place for people who use wheelchairs.
"The bench is an elementary idea and doesn't require superpowers or ingenious design solutions. However, it is a small step to inclusive space," says Good Bread founder Vladyslav Malashchenko.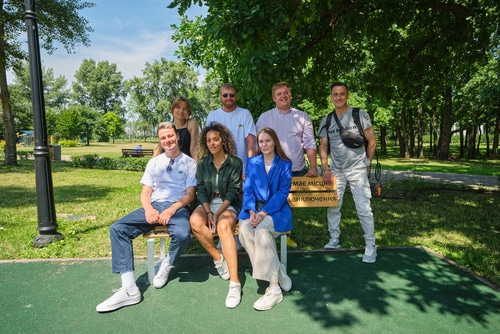 The inclusive bench was donated by the German Lebenshilfe Heisenberg association, which supports people with disabilities. The organization has been helping the bakery since the first days of the full-scale invasion: they donated a minibus, an oven and baking equipment.
Since March, the Good bread bakery has been baking and distributing bread free of charge to homeless people, soldiers, doctors, and children from boarding schools and orphanages. During this time, more than 90,000 loaves of bread were transferred to Kyiv, Chernihiv, Kharkiv, and Donetsk regions. People with mental disabilities are also involved in work.
The Good bread bakery continues its activity for the victory of Ukraine. You can support the project via the link: https://heylink.me/goodbread/