Small towns situated close to the front line can hardly be considered as places where one would like to spend their childhood. Explosions and the sound of shooting can be heard all around. There were times when shells landed on people's houses. Hardly anyone ventures into this zone. Nothing happens here. However, it is here that people feel a dire need for a bright holiday.
The team of the project 'St. Nicholas Reindeer' has visited these towns for the sixth consecutive year to wish Merry Christmas and Happy New Year to the kids living there. They engage in merriment, play games and get presents. The initiative was launched in 2015 when the representatives of the public organization 'Ukrainski Rubezhi' (the Ukrainian for 'the Ukrainian frontier' – editor's note) were working close to the line of contact in Eastern Ukraine. They saw that the local children were shut out of society's attention. Something had to be done about it.
'One of the goals of our project is to draw attention to the fact that children live right on the line of contact, close to the front and places where bullets are flying all the time. There are about 14 thousand of them living out there. Of course, we do not have the capacity to give presents to all of them – over the whole period of our project's existence we have received about 3,5 thousand letters with only 10-15 members working in the project during its most active phase. This is far from enough. Therefore, we no longer take responsibility for delivering more presents than we are really capable of. We do understand that we can cover a tenth of the kids we would have wanted' – says the co-coordinator of the project, Evheniya Levinstein.
Sustainable intent
Volunteers have been visiting the towns of Toshkivka, Tr'okhizbenka, Petrivka, Muratove and Pisky for several years on the trot. They also come to visit such towns as Hirske, Zolote, Lastochkyne and Vrubivka. Volunteers normally do not have rather big localities on their list. This year an exception has been made for Stanytsia Luhanska, which is being constantly hit by shelling.
'At Stanytsia Luhanska there is a district called Kondrashivka. It is located right in the middle of the crossfire route. From the school's windows we can see the 'other side'. We try to visit small localities with from 10 to 50 kids residing there, since there is no infrastructure available whatsoever. There may be a school and a shop, and a library or a club in the best-case scenario. Oftentimes the latter is absent as well. There is no transport connection. Therefore, we want to go to these localities so that the kids can draw at least some comfort from these visits. They cherish the memory of our visits; they love us and are waiting for us to come again. We are important to them', says Evheniya.
Important presents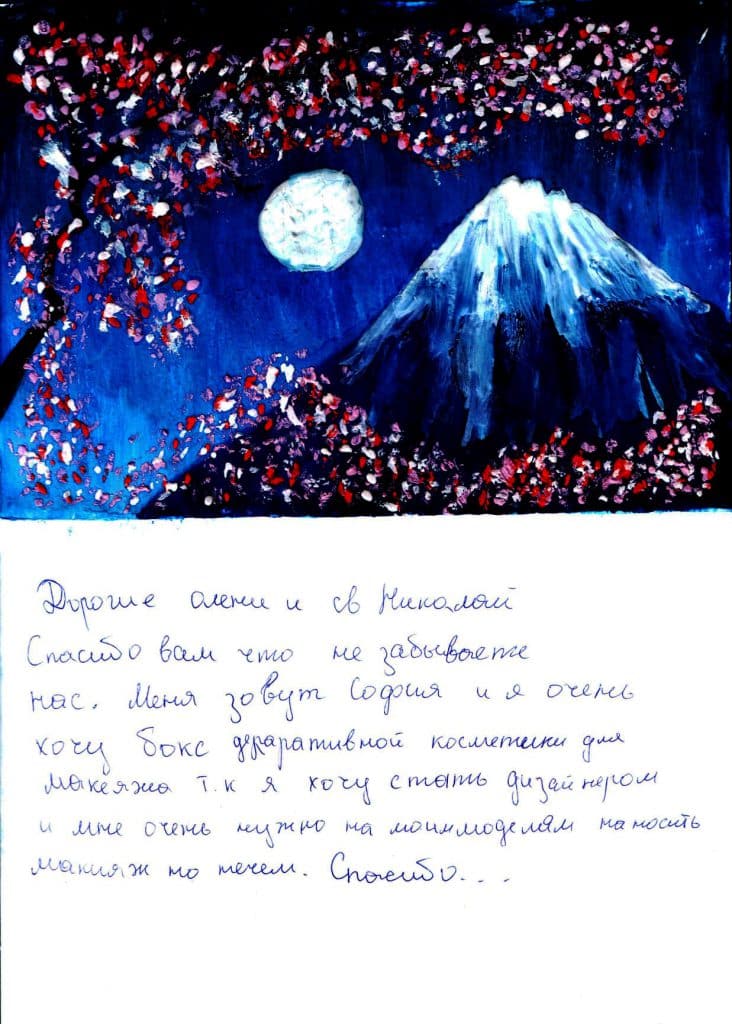 Before the trip it is important to learn about what local kids want for Christmas. Our volunteers residing in those front-line settlements cope with this task perfectly. They collect children's letters and compile lists that will be then read by benefactors, who, in turn, decide which present indicated on the list they are able to provide.
Every year 'St. Nicholas Reindeer' gets presents from across Ukraine. We also receive them from abroad – from Canada, Australia, Monaco, the USA, Israel, Spain, Italy and Germany. It is true to say that the wish to bring joy to kids has no borders.
We report about the work completed by our volunteers on our Facebook page. You can also find photos and videos there of the volunteers delivering presents to kids.
Annually children write about their wishes and adults try to bring them to life. Any child under 12 is eligible for a present. However, teens are not left without a present, unless they are asked to come up with an idea for a collective one. The manager of the project, Inna Achkasova, told us that every year the volunteers try to keep up with the latest children's trends. For instance, this year many children have expressed their wish for headphones, fancy octopuses, antistress pop-it devices, smart watches, etc. There is also demand for creative presents. In particular, kids ask for sketchbooks, markers, guitars and ukuleles. Some of them want to pursue sports activities by asking for sports outfits, sports equipment and balls.
'I already know each of these kids by name, since I type their names in our database. About 10 kids want to get books as a present. We've had requests for three encyclopedia books about space. For some reason, this kind of book is in high demand. One girl wants an encyclopedia about fish. Someone has asked for the book 'Roadside Picnic' by Arkady and Boris Strugatsky. There have also been requests for manga, i.e. Japanese comics. Children also want presents that would stimulate their creativity and development. Our benefactors are quite responsive on this,' says Inna.
A difficult task
However, the real challenge arises when some of the kids ask for a pet – a cat, a puppy or a hamster. Of course, they first get approval for this from their parents. To deliver a pet to them is often not the easiest of tasks. The children's letters sound especially touching when they are asking for a present for someone else. For example, one girl has asked for a warm blanket for her mommy. Another girl from the town of Lastochkyne wants her brother, who has been living with a disability since childhood, to get many letters from different people. Schoolchildren from Maratove, for example, wanted to make a present for their aged neighbor. According to them, this neighbor is a frail old lady and there is no knowing just how many years she is left to live, so they wanted to present her with a blood pressure monitor.
'We are searching for a tablet for a small boy from the village of Nevelske which has completely been destroyed by shelling. His parents, younger sister and grandparents have came under shelling. Their house was blown to smithereens. The family were sitting on a couch in one of the rooms that got under fire. Nobody was injured. We have talked to the boy's father. He said, 'I think there were not 6 of us sitting on the couch. There were 7 of us. God was sitting next to us. He protected us'. That is their story. The tablet would serve a link to the outside world for this family', says Evheniya Levinstein.
However, the volunteers say that such gadgets won't be delivered to kids unless it is absolutely necessary, as donors are often reluctant to respond to these requests. Nevertheless, on one occasion a donor from Kyiv took care of all requests for mobile phones. She said, 'What do you mean you don't want to give them phones? They need them'. She managed to find 30-40 phones for all of the kids. For two years she had been helping kids by scraping gadgets together.
'We tell kids that St. Nicholas can't make gadgets because he doesn't have his Chinese assistants by his side. We are also aware that our benefactors are not really interested in this. If it were up to me, I would give phones or tablets for each and every kind living along the line of contact as these gadgets would link them to the outside world. They mean so much more to them than we can possibly imagine. Just think of their challenges – 8 years of war, 2 years of the COVID-19 pandemic, lockdowns and remote learning. And all this has befallen them in their childhood, which they will never be able to relive again', said Evheniya.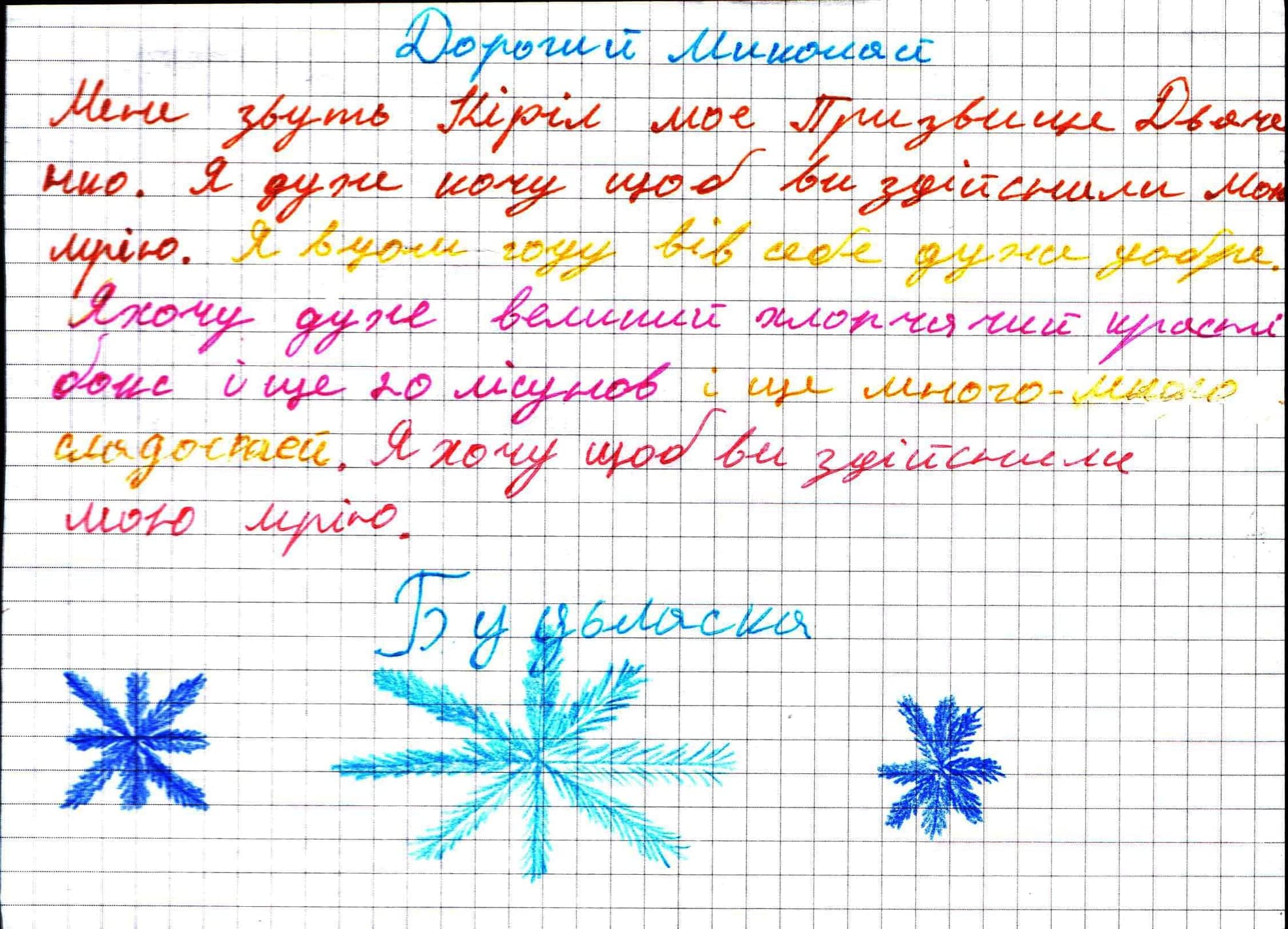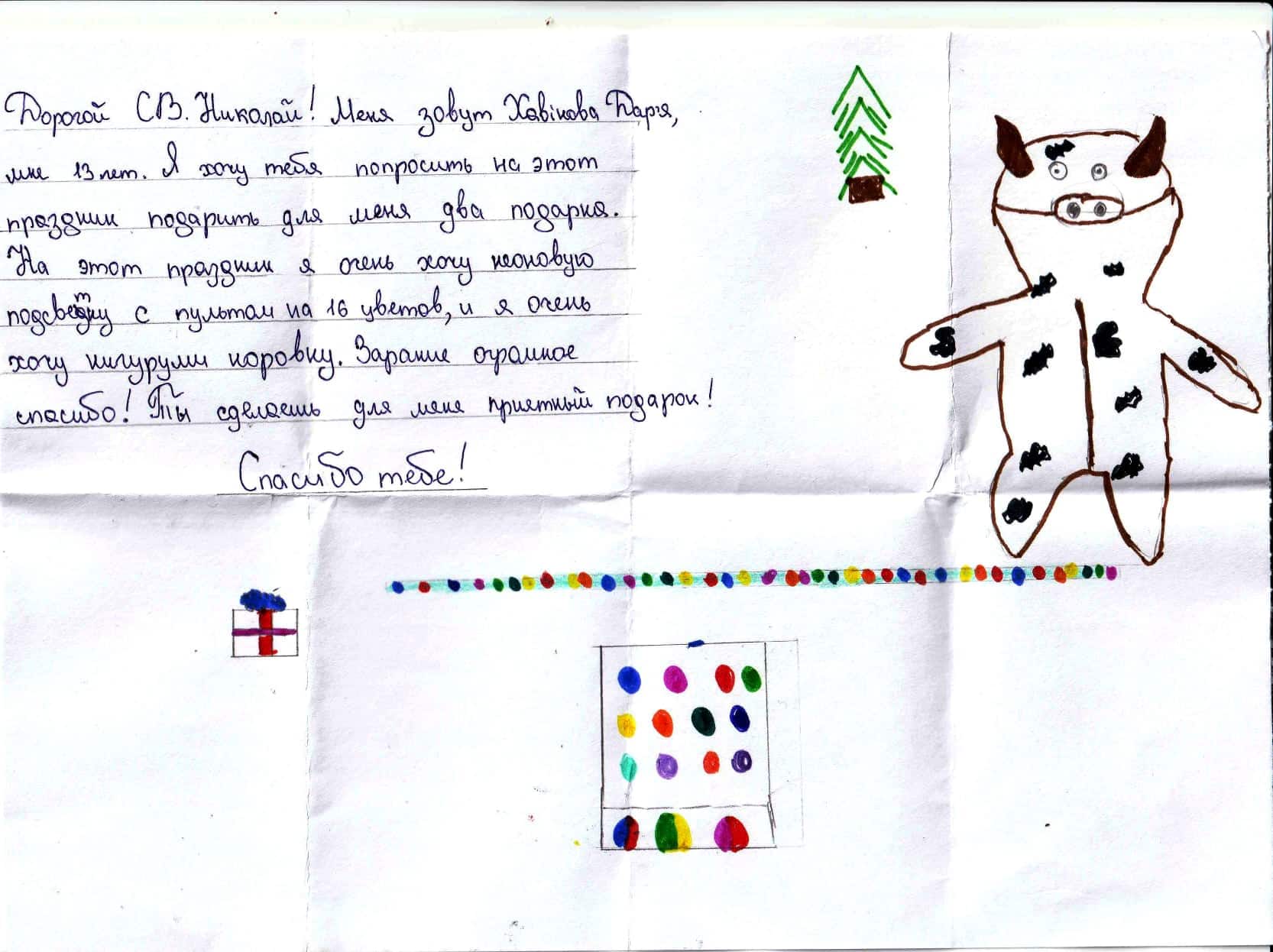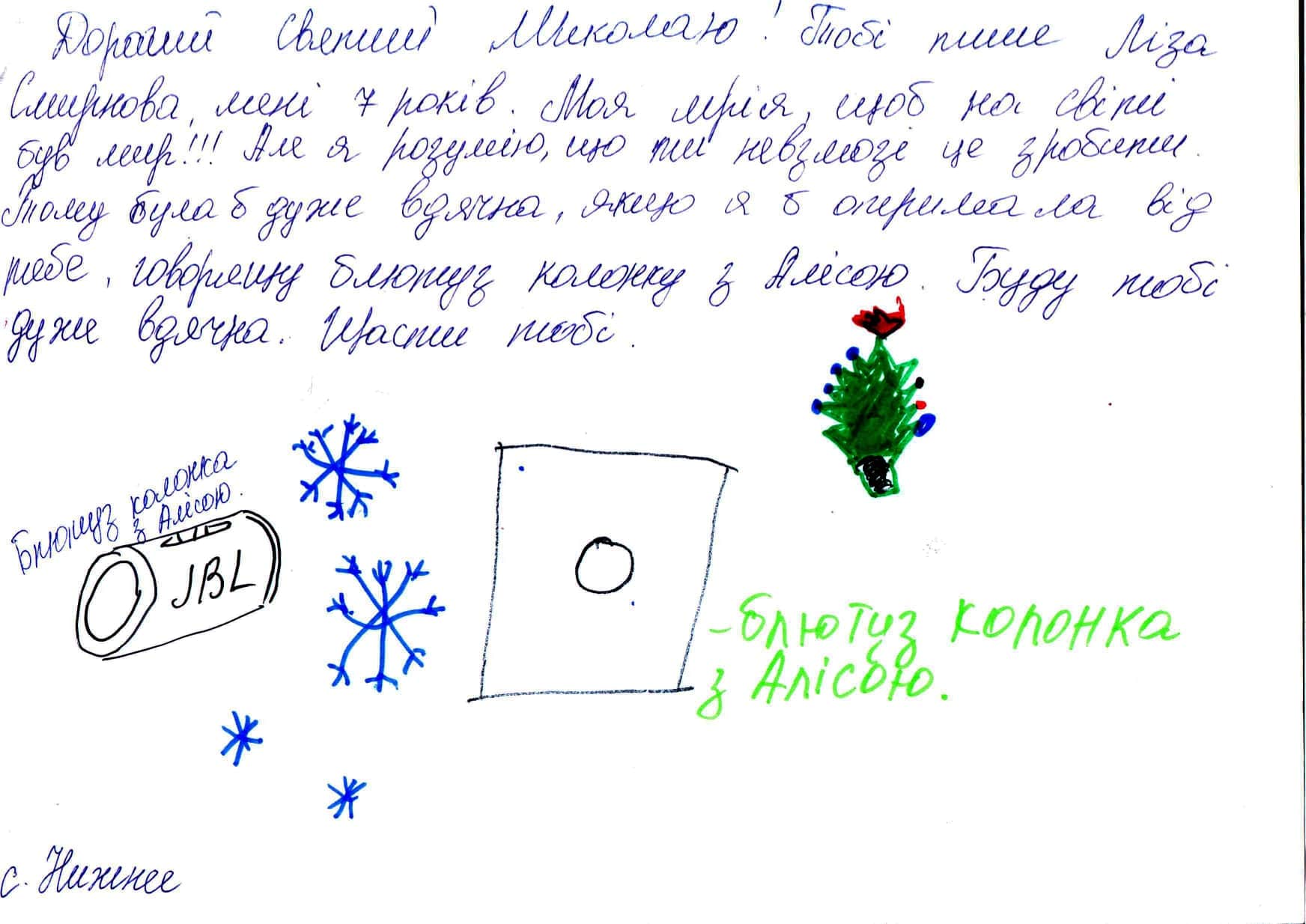 Letters written by the kids living close to the line of contact in which they ask for Christmas presents
The kids who have never experienced a peaceful life
It is worth mentioning that the project 'St. Nicholas Reindeer' is not solely focused on giving presents. Our volunteers throw parties for kids, communicate with them and entertain them by organizing jolly events. In doing so, they attempt to give these kids at least a tiny piece of normal childhood of which they have mercilessly been deprived by war. A generation of kids is growing up close to the line of contact that has never seen peace. Disconnected from the peaceful world, exposed to constant shelling and faced with the need to constantly remain on alert – this is what makes their reality.
'I have known these kids since 2014, when I was working at a hostel for volunteers. I am sure that all kids under 10 are wonderful. We have to take care of them. You can't really apply the adjective 'spoilt' or 'pampered' to any of them, especially during those times. Their parents may not necessarily be good. Children grow up, being shaped by different informational waves. We have to become one of such waves that interacts with them,' says Maryna Rassokha, a volunteer.
Such visits from volunteers are especially valued by the inhabitants of depressing small towns where nothing happens. Truth be told, trips to the gray zone have their own distinguishing characteristics. For instance, volunteers may be holding an event at a school while the bullets are being shot across the field nearby, or they may be asked by the locals not to be standing next to the main entrance for security reasons.
'It's very beautiful there. Nature has cleansed itself. There is lots of wildlife there – pheasants, deer, swans swimming on the lakes. This would make perfect scenery for movies. Plus, the local forests have not been exposed to human impact for several years. You are not even allowed to go off the road. At war you are to follow lots of dos and don'ts. My family wouldn't let me go to these places, since they knew that one step in the wrong direction means death', says Maryna.
'The nature is extremely beautiful in the towns located close to the gray zone with lots of contrasts present there. Along with the military and checkpoints you can see children. We were there last fall. We found delectable blackthorn berries there. We just picked and ate them. Afterwards we learnt that that place had been shelled', – says Inna Achkasova.
Winter holidays cannot be halted. Someone will decorate their homes while others will throw a dazzling staff party or invite their nearest and dearest to a Christmas dinner. Our project will entertain the kids living close to the line of contact. Everyone needs joy and happiness. This especially goes for the kids who have never experienced a peaceful life.