НIn late May, the parents of little Dmytro Svichynskyi from Odesa raised $2 million for an injection that could cure him of spinal muscular atrophy (SMA). In the spring this year, one-and-a-half-year-old Eva Korolenko who was diagnosed with SMA, won free injection of the world's most expensive drug Zolgensma in a lottery. What is SMA, why are medicines so expensive and is it ethical to win life i lottery?
What is SMA?
Spinal muscular atrophy (SMA) is an inherited disease that results in progressive muscle atrophy and weakness. It can be manifested in different ways – from asymptomatic forms in adult patients to extremely severe diseases in newborns.
There are three main types of this disease: I – the most severe, II – intermediate, III – the easiest.
Children with the first type of disease often do not live to two years without treatment. Types 0 (fetal disease) and IV (adult disease) are also classified separately.
The incidence of SMA is approximately 1 in 10,000 live births. People with this diagnosis have difficulty performing basic life functions such as breathing and swallowing. However, SMA does not affect the ability to think, learn and build relationships with the others.
Until recently, SMA was thought to be incurable, but in recent years, three medicines have appeared in the world that can stop the disease.
The first is Spinraza. It was registered by Biogen (USA). Spinraza is injected directly into the cerebrospinal fluid through the waist. Patients receive four loading doses during the first 2 months of treatment. Thereafter, they should be given maintenance doses every 4 months for life.

Another medicine is Zolgensma. This is the first gene therapy drug for the treatment of SMA, which was presented in 2019 by Swiss pharmaceutical company Novartis. It is suitable for patients with all forms and types of SMA who are younger than 2 years old at the time of dosing. The drug is administered intravenously, the process takes about an hour. This is a one-time treatment.
Zolgensma is the most expensive medicine in the world. The manufacturers justify the price by saying that, for example, Spinraza treatment costs more than $4 million over 10 years, which means that Zolgensma treatment is cheaper in total.

Evrysdi – this medicine was invented by Swiss pharmaceutical company Roche. It is approved for the treatment of SMA in adults and children 2 months and older. Evrysdi is a daily oral drug that should be taken for life.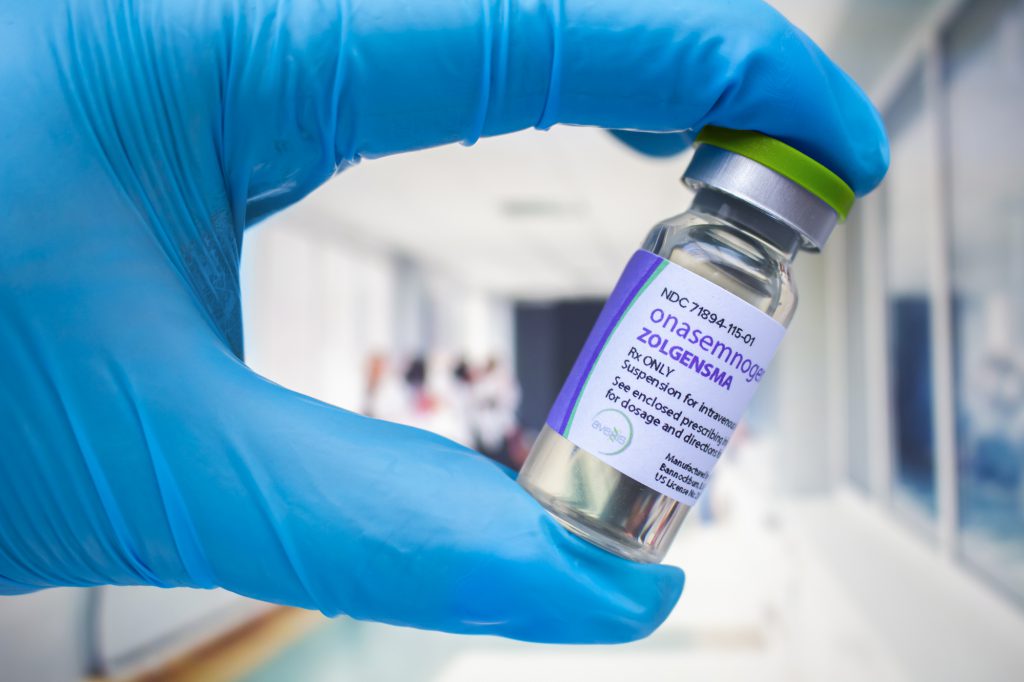 A number of countries provide free medicines to patients with SMA, but not Ukraine, although there are about 230 patients with the most severe first and second types in the country. There is also no protocol for the treatment of children with SMA in Ukraine.
An unfortunate fact: in 2021, the Ministry of Health has allocated about ₴1.3 billion for the procurement of medicines under controlled access agreements. The agreements stipulate the confidentiality of the price when procuring expensive drugs for orphan diseases from the manufacturing companies. These agreements should allow the government to receive such drugs at a discount. However, a draft law, which regulates this, was only adopted in the first reading in early June.
"…I will give a simple example. Spinal muscular atrophy is diagnosed in 267 people in Ukraine, mostly children. If they do not receive the appropriate course of treatment, which costs ₴12.3 million per year, they simply will not survive. I consider it a direct task of the government to provide patients with these expensive medicines. We have found such a mechanism – it's controlled access agreements, said the then Minister for Health Maksym Stepanov in January.
Among Ukrainian organizations, Children with SMA Foundation, established in 2004 in Kharkiv, has been taking care of the problem of SMA treatment for the longest time. It was founded by Vitalii and Svitlana Matiushenko, the parents of a girl with SMA. Now the movement Children, we will make it in time also works with a problem. See below to learn what is this movement and where it started.
#Dimawewillmakeintime Campaign
The story of Dmytro Svichynskyi from Odesa became extremely popular.
Initially, the father of two-month-old Dmytro Vitalii Svichynskyi asked for help on his personal Facebook page, and on February 26, a separate campaign page appeared online. The first post with the story of little Dima generated almost three thousand reposts. Over ₴1 million was raised for treatment in a day. However, the family needed $2.3 million.
The boy's parents created a team of volunteers. Some were involved in social networks, some in negotiations with business or worked with international foundations. To raise funds, the team organized charity fairs, discussions, literary evenings, tours, auctions, baked cookies and sent them to famous people or companies. Charitable events took place every day throughout Ukraine.
There were days when some philanthropists doubled the amount collected per day. For example, entrepreneur Anna Yarmolaieva proposed such an idea and in one day, instead of ₴3.2 million, the campaign raised ₴6.4 million.
PR specialist Anna Zelinska started the Dating Auction where everyone could buy meeting with a celebrity, politician, economist or PR expert. The minimum rate was ₴2,000, and the minimum step was ₴200. A total of 46 lots were sold. Well-known Ukrainians joined the Dating Auction such as Irena Karpa, Irma Vitovska, Michael Schur, the team of the film My Thoughts are Silent, Sviatoslav Vakarchuk, Andrii Kulikov, Andrii Khlyvniuk and others.
At the beginning of the campaign, there were hopes that big business would help, but this did not happen – most of the money was raised from the individuals.
20 days before the end of the scheduled deadline, the team came up with Time Watchers project.
"We calculated that 1 day costs ₴960,000. We wrote to more than 300 companies and their managers, knocked on all the doors, offering to buy an hour or a day for Dima," says a participant of Dimawewillmakeintime campaign, director of MAS digital agency Oleksii Zakharchenko.
Eventually, the final cost of treatment was lower due to a discount from an American clinic, and the last 30% was contributed by an anonymous philanthropist.After closing the fundraising for his own son, Vitalii Svichynskyi announced the creation of the movement Children, we will make it in time.
"The campaign was transformed into the Children, we will make it in time movement, which will fight to a finish that the treatment of children with SMA begins in Ukraine, and this was a systemic decision to prevent families from following the difficult path we took during fundraising," says Dima's father Vitalii Svichynskyi.
Is life a lottery?
In 2020, the Swiss company Novartis decided for the first time to conduct a lottery among sick children. Patients living in countries where the government does not provide free CMA treatment received 100 doses of Zolgensma.
Opinions are divided on whether to play children's lives is ethical. On one hand, the chance is given to those who would never be able to raise this enormous amount of money on their own. On the other hand, the very concept of lottery with regard to children's health sounds wild. Kacper Rucinski, co-founder of the UK organization TreatSMA and a member of the board of SMA Europe, says that the lottery is essentially unacceptable from a clinical point of view, and there is too much excitement around the very medicine.
SMA Europe called the lottery controversial. Indeed, every baby's life is a gift, but there are a number of cons:
"We find it unacceptable that decisions on treatment will be made not by clinicians but by a pharmaceutical company, while proper clinical evaluation and analysis will be replaced by a blind draw," the organization said in their statement.
The Ukrainian Foundation Children with SMA also condemned the idea of ​​the lottery:
"… The desire of parents to do everything possible to treat their child is in opposition to the conditions under which such assistance can be provided by Avexis. The manipulative nature of the proposal for allegedly affordable treatment should be clearly understood, compared to the frustration that comes when a child does not 'win' and later – as s/he grows – becomes not eligible for receiving such a treatment," the Foundation's statement reads.
However, "the Foundation will take all reasonable steps to take advantage of the offer, but at the same time will refrain as much as possible from creating a stir around this information, which is very sensitive, especially for families with patients of the first type SMA."
The #Childrenwewillmakeitintime team also published its own position on the lottery: "We defend the position that the government should procure medicines for sick children with SMA. The Zolgensma lottery mechanism is not a perfect tool, but it is a chance to get free medicine that is worth using."
According to them, to date, 9 children from Ukraine have won the lottery for a free injection of Zolgensma, but the exact list only belongs to Novartis.
In April, Eva Korolenko won such an injection. The girl's parents, who managed to raise $1 million to buy the medicine during the year, want to transfer the rest of the money to save other children diagnosed with SMA after their daughter's rehabilitation.
On June 1, another Ukrainian family announced a stop of fundraising – one-and-a-half-year-old Arsen Borys from Ternopil region won the injection. Before that, his parents were able to raise ₴35 million for him.
In 2021, Novartis will once again hold a lottery and reports that since a medicine was invented, 170 children out of 700 have received a free dose.
Discussions on the ethics of the lottery are still ongoing, but another open question is even louder – how to provide treatment for every child with SMA, and can the cooperation of the government, business and philanthropists help find a solution?