We've selected clothes, accessories and jewellery with Ukrainian patriotic symbols from Ukrainian brands that donate all the proceeds or its part to the military or civilians.
German Apparel
Ukrainian clothing brand recently released a new patriotic drop "Good evening" and donated a percentage of sales to the Armed Forces.
The collection includes hoodies with a picture of a sunflower by illustrator Darya Goryunova and viburnum by Taras Bidenko, clothes with a print "Good evening, we are from Ukraine" or with a photo by Gary Yefimov, as well as T-shirts and sweatshirts with embroidery "Palianytsia".
U:DO
Among the patriotic selection of this local brand, there are, for instance, blue unisex T-shirts with the yellow inscription "Kyiv is the capital of freedom", which is true. Also, the brand created print "Will" stylised as our trident and can be applied to any product: T-shirt, long sleeve shirt, hoodie or troyer. 10% of sales will go to support the Armed Forces.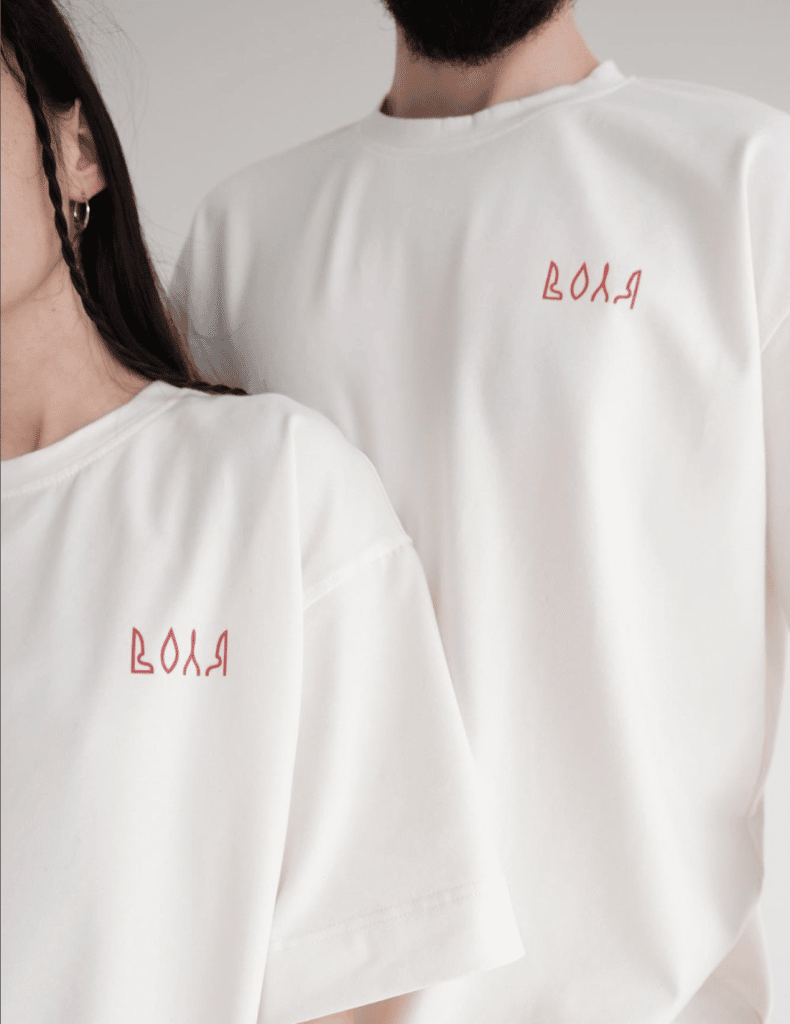 Siyai
This Ukrainian brand developed a whole thematic collection and already earned UAH 150 000 for the Armed Forces at the end of March. Here, you can find a pair of blue pants, a two-colour skirt with a cardigan, several variations of polo, and even a sweater and top with the legendary inscription with instructions to the Russian ship where to go.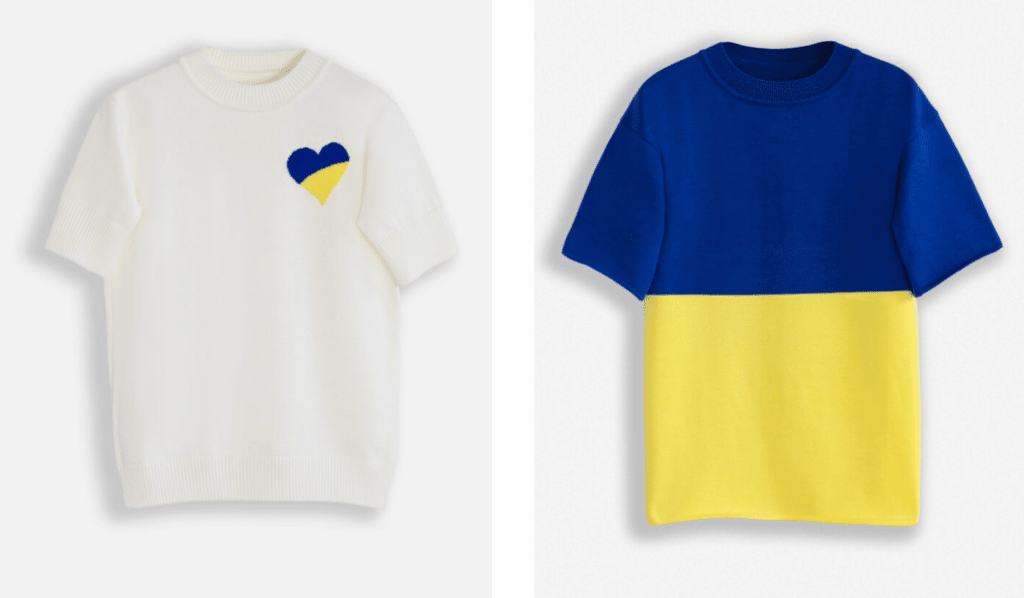 Morning Star
The brand has created a collection called "NATIONAL", which includes T-shirts and hoodies with the name of the best country in the world (yes, it's Ukraine). Also, the brand offers T-shirts with a variety of prints that reflect our reality: photos of destroyed cities and explosions. Percentage of sales of any patriotic item will go to the Armed Forces and territorial defence units, namely on the purchase of Kevlar fabric for the plate carrier manufacturing.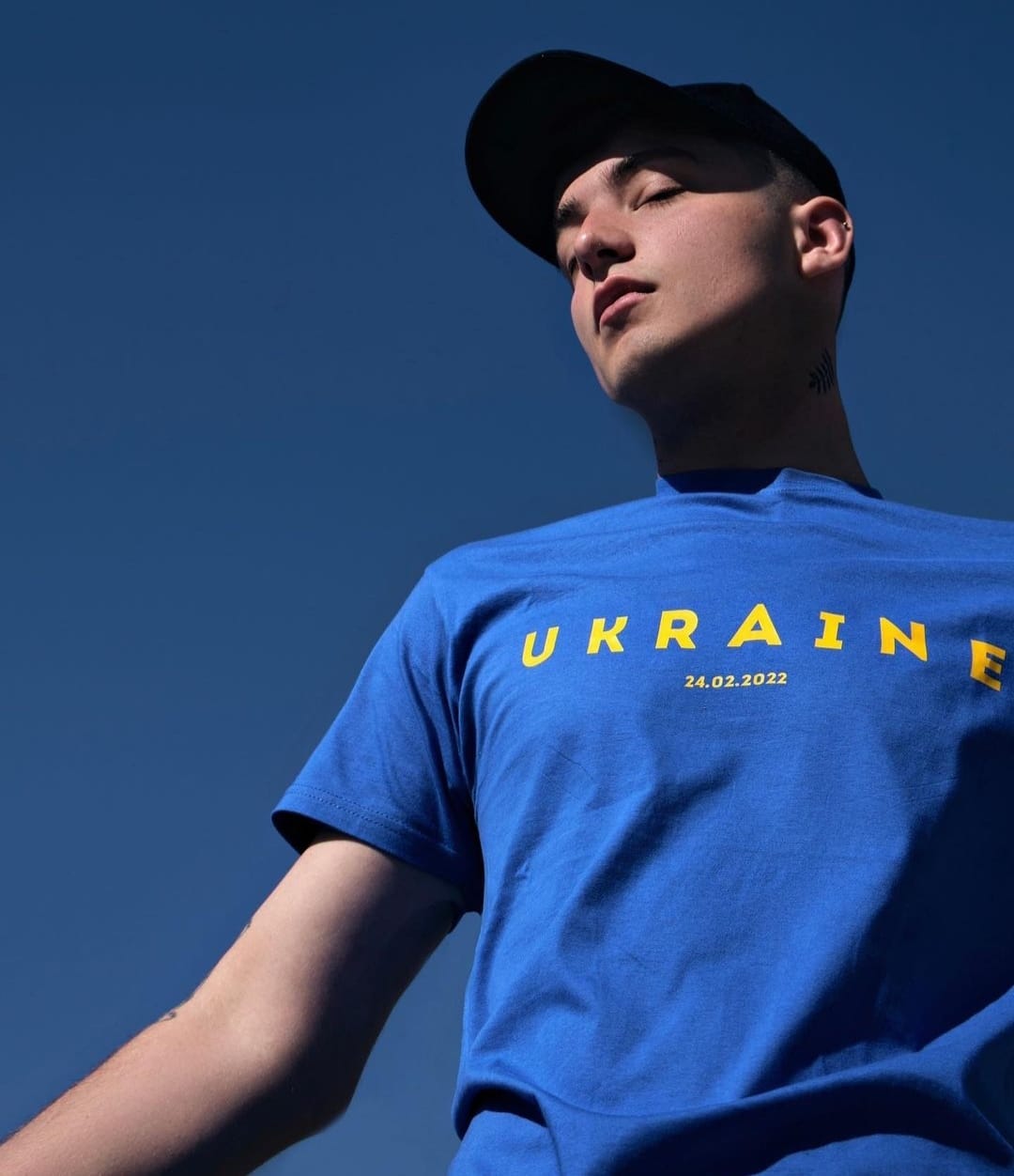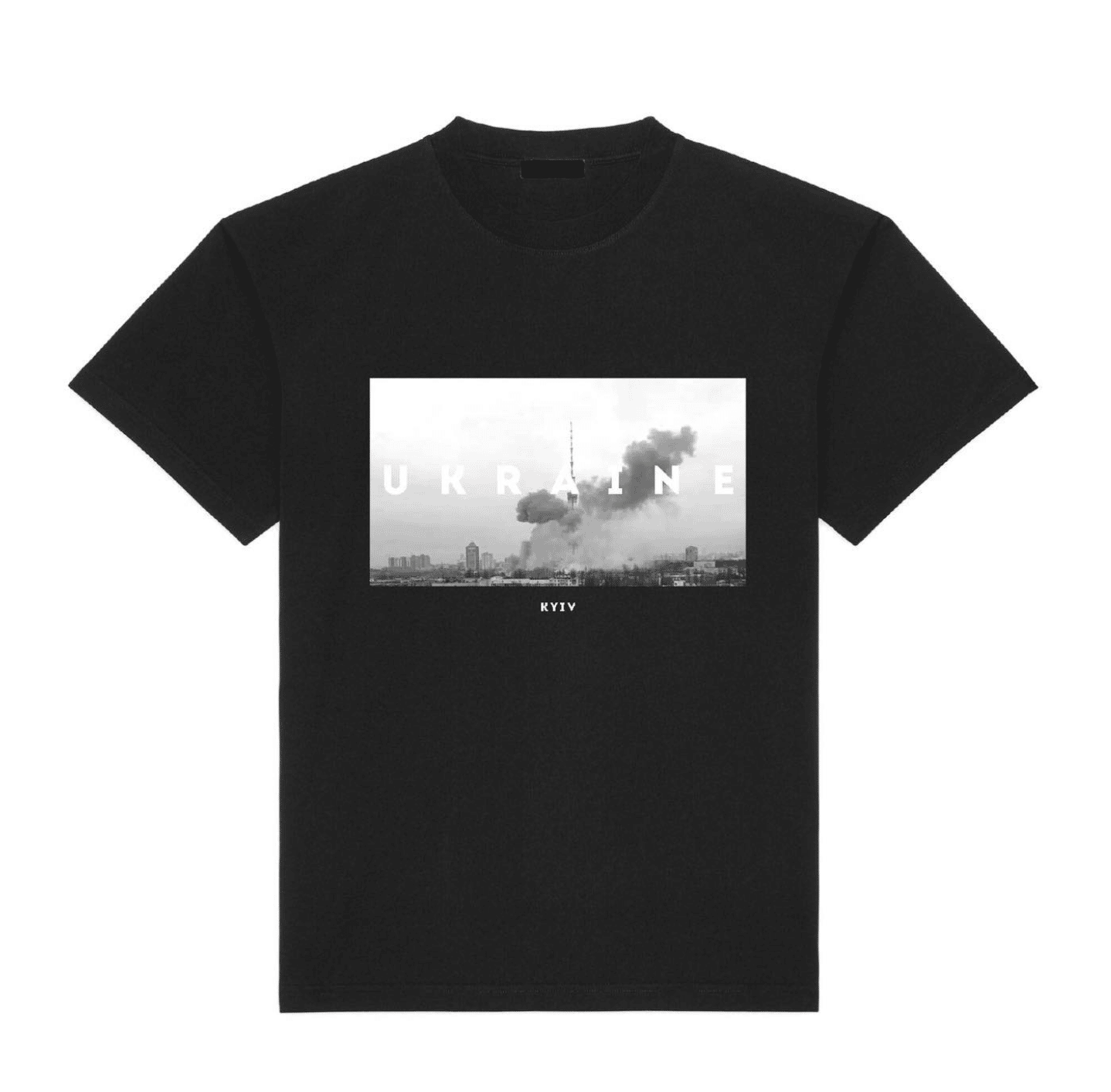 Ni grama dramy
A Ukrainian brand has created patriotic merch and donates all the proceeds to the Armed Forces. Here you can find: a knitted T-shirt "Love Ukraine" with embroidery on the heart, a unisex T-shirt "Blooming Trident" with trident embroidery, a flag T-shirt, thematic pins and stickers.
Vdiagai
The Ukrainian brand has released a limited collection "Let me put this on". The collection includes light dresses-shirts and T-shirts with embroidered blue and yellow hearts, Ukrainian traditional embroidered shirts called "vyshyvanka", shirts in patriotic colours and T-shirts with the cities of Ukraine. You can have photos of Kyiv, Cherkasy, Kharkiv, Lviv and Odesa printed right on your heart. 10% of sales go to support the Armed Forces.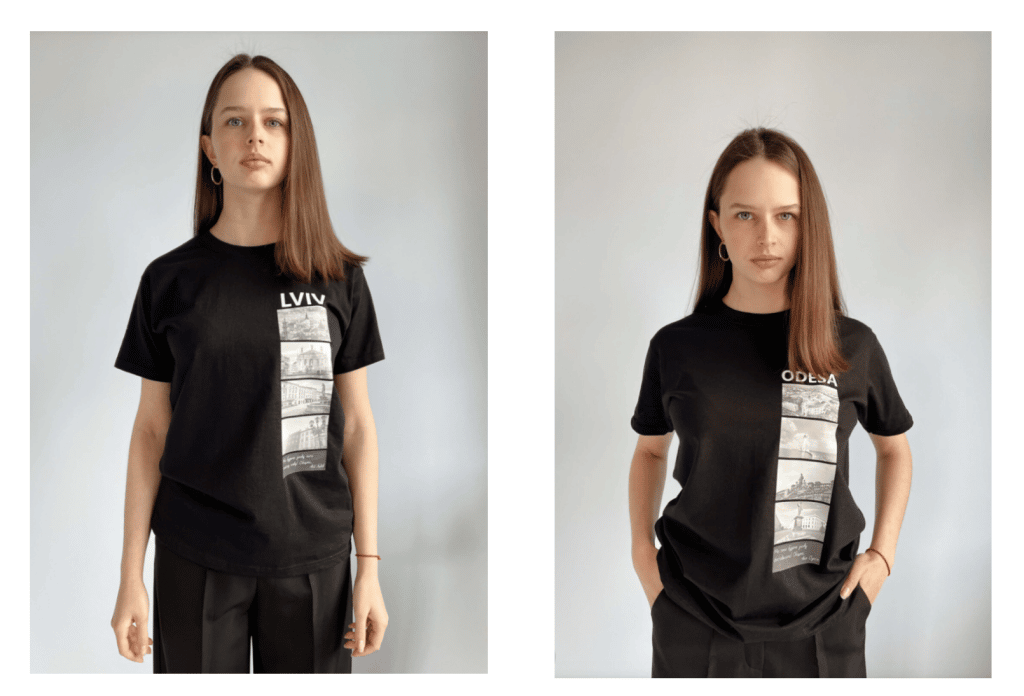 Cuprum Depot
This brand decided to focus on a patriotic mono-product and created a long sleeve shirt "stand with Ukraine", as noted by the brand's creators, in the right colours. Half of the sales go to the charitable foundation "Come Back Alive".
Ruslan Baginskiy
The famous Ukrainian designer of hats and accessories also did not stay aside and released baseball caps with Ukrainian flag embroidery. "Fashion has the power to unite people and make a statement without words", the designer says. All proceeds go towards helping the Ukrainian army.
Dodo Socks
The Dodo Socks factory in Rubizhne was destroyed during the fighting. However, the workers still managed to send a batch of patriotic socks to the shops. Therefore, please, meet a new drop "To victory!". All the proceeds will go to support the Armed Forces. Inscriptions "Palyanytsia", "Good evening, we are from Ukraine", "Glory to the Armed Forces", "Chornobaivka", "Our Father Bandera" and others can peek out from under your shoes. By the way, the collection includes not only socks but also stickers for your laptop.
K O Z A R
Myroslava Kozar makes unusual silver jewellery, which certainly attracts attention. Now not only because of its architecture but also because of engraving. Branded earrings-cafes of the Saturn brand are now engraved with "I am Ukrainian", "Palyanytsia", "Chornobaivka" and "An-225 Mriya". 30% of sales go to support the Armed Forces and volunteers.
KOCHUT
One of the most powerful symbols of Ukraine is the trident. Obviously, this jewellery brand decided to use it to design a silver pendant. It is available in different variations, but with a common good goal — 100% of sales will go to help our army.
Lutik
During the war, the handmade jewellery brand's only and quite popular product is "the Seed from Ukraine" pendant. The seed pendant costs $100 and is made of 100% brass. The proceeds go towards supporting local communities by providing food and medicine to those in need. "We hope this will remind you of the value of freedom", — the creators of the jewellery say.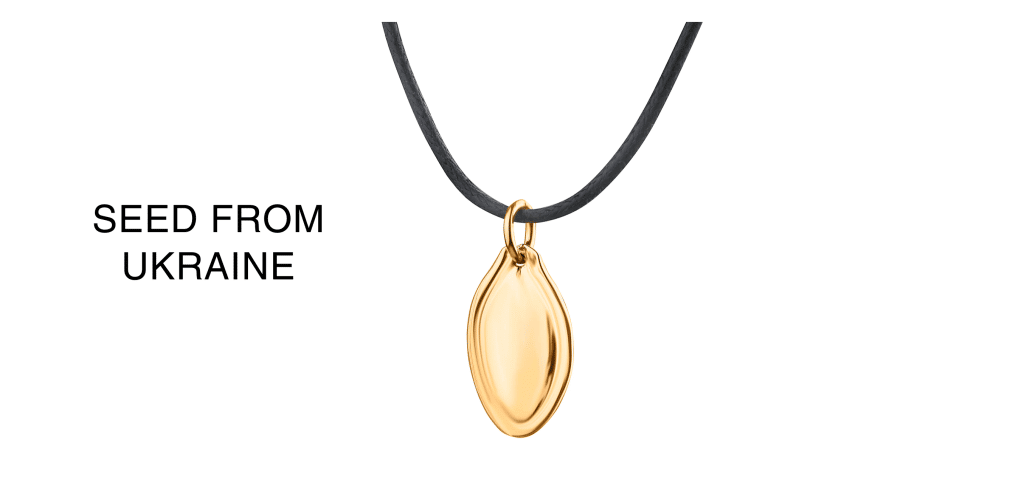 Anna Laty Jewelry
This girl makes a limited collection of necklaces with patriotic inscriptions. You can order jewellery "Banderivka", "Palyanytsia", "Russian ship, go f* yourself", "Flower", "Beloved". 20% of sales will go to support the Armed Forces.